With five weeks left in Winnipeg's 2022 civic election campaign, former mayor Glen Murray continues to dominate the field of current mayoral candidates. However, the shape of the race remains somewhat uncertain, as nearly four in ten Winnipeggers do not yet know who they will vote for. Even among those who have a preferred candidate at the moment, fewer than half are very certain of their choice.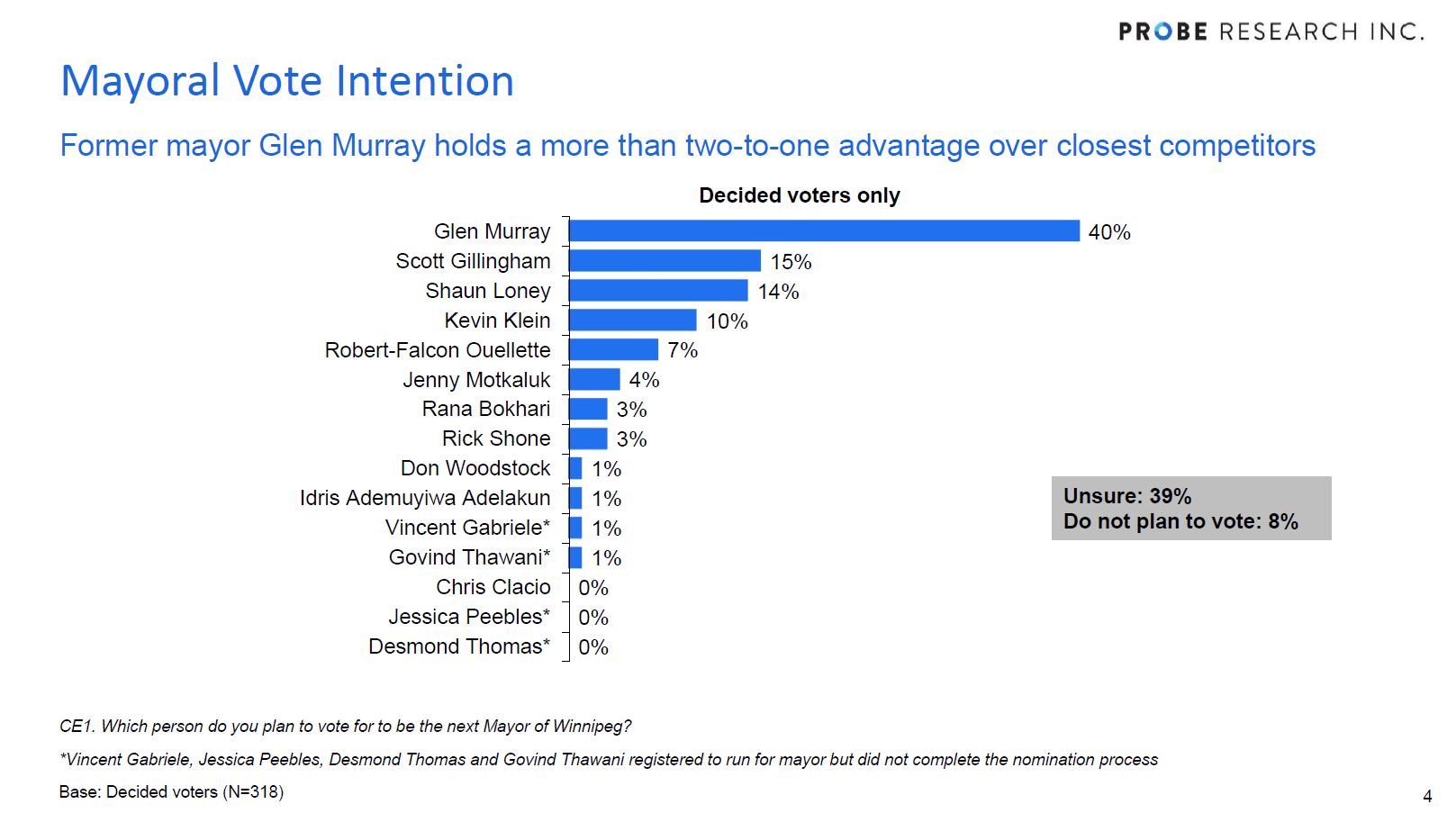 This survey of 600 Winnipeg adults conducted for the Winnipeg Free Press and CTV Winnipeg finds that among decided voters, four in ten plan to cast a ballot for Glen Murray. Murray remains in the strongest position, as his support has decreased only slightly from a July 2022 survey (40%, down four percentage points). Two-term St. James Coun. Scott Gillingham remains a distant second at 15 per cent (-1 point), while social entrepreneur Shaun Loney has vaulted into third place with 14 per cent support (+6 points).
Outgoing Charleswood-Tuxedo-Westwood Coun. Kevin Klein, who only entered the race in late July, sits in fourth place at 10 per cent. Former Winnipeg Centre Liberal MP Robert-Falcon Ouellette has fallen back to seven per cent (-6 points), with the remaining candidates all polling in the low single digits.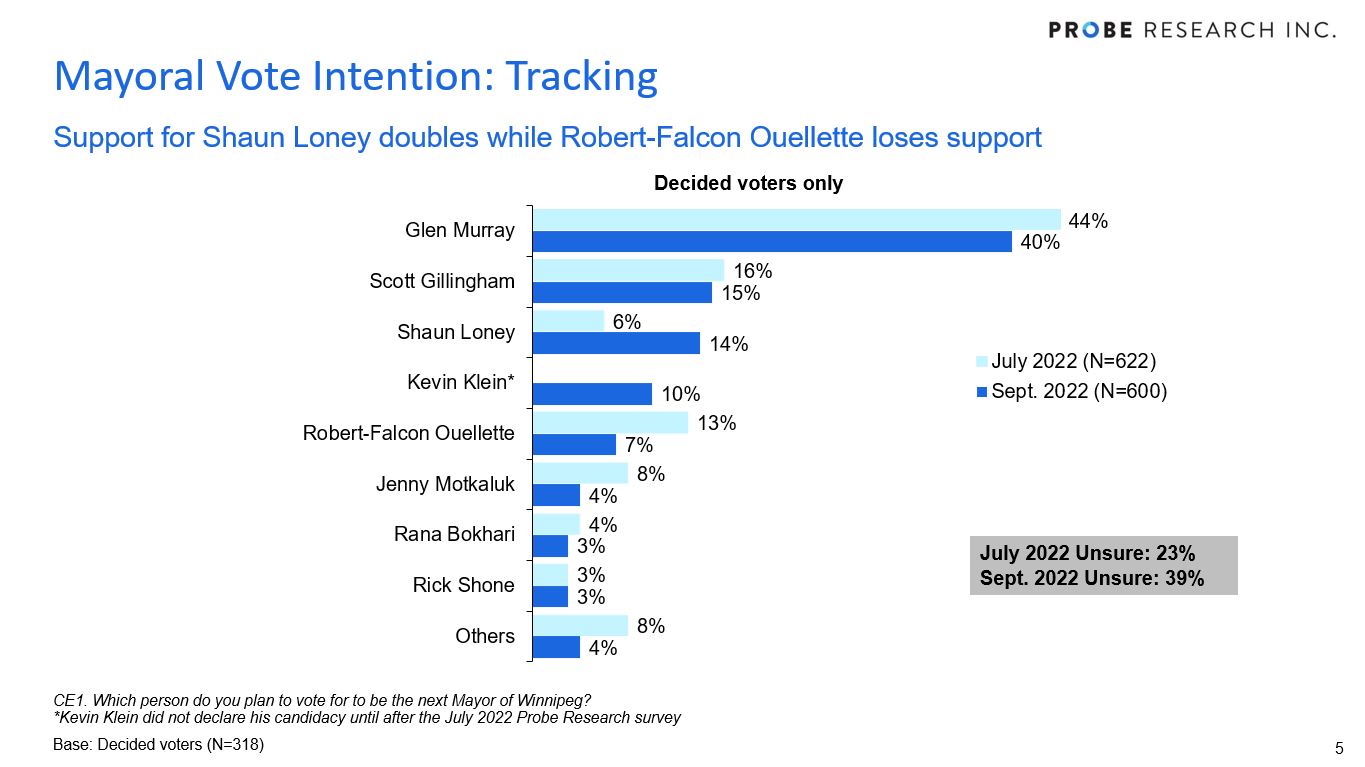 Overall, many Winnipeggers remain uncertain about which candidate to vote for. Nearly four in ten are undecided (39%), with another eight per cent indicating they do not plan to vote on Oct. 26.
Among those who have landed on a mayoral candidate, only four in ten (41%) are very certain they will vote for this person, with slightly more than one-half (53%) indicating they are somewhat certain of their choice and six per cent not at all certain.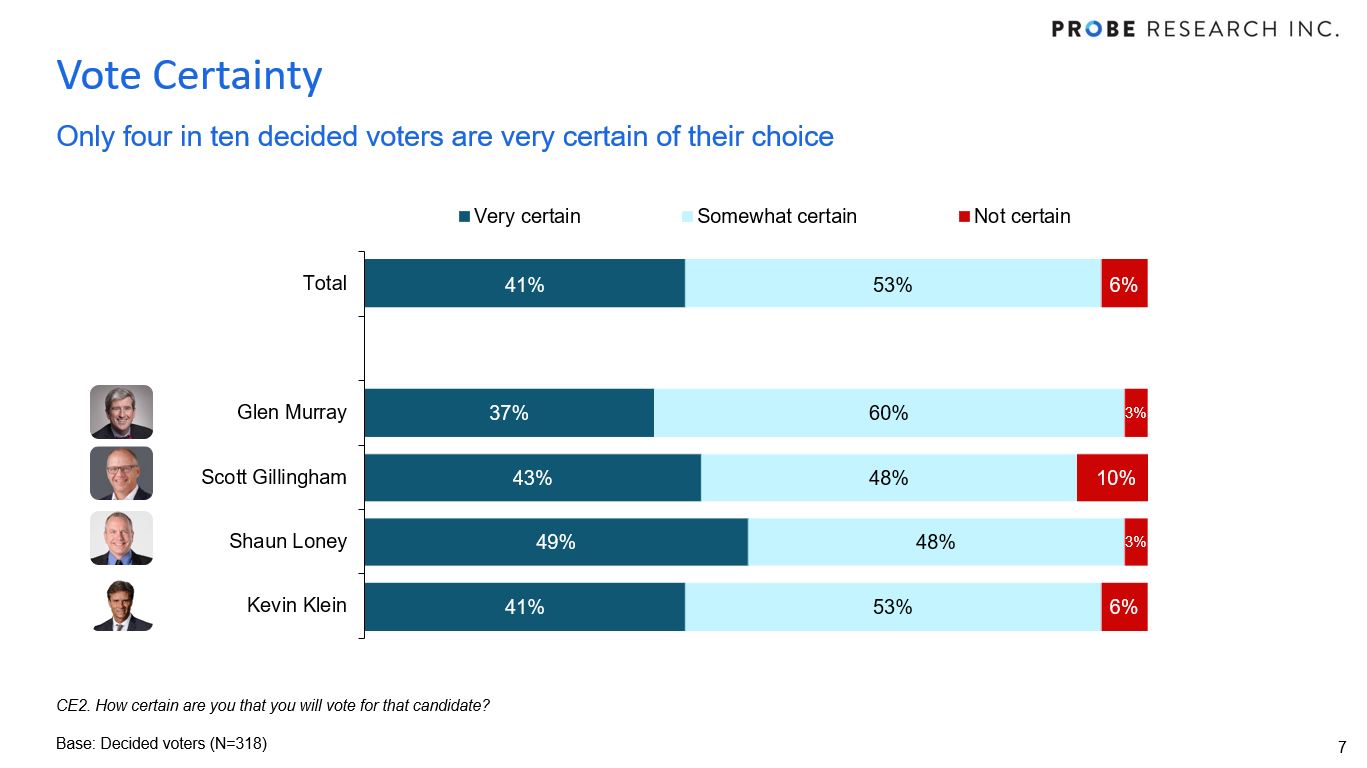 Disclosure Statement
Probe Research is a member of the Canadian Research Insights Council (CRIC) and confirms that this research fully complies with all CRIC Standards including the CRIC Public Opinion Research Standards and Disclosure Requirements. Learn more at: https://www.canadianresearchinsightscouncil.ca/standards/por/
Methodology
Probe Research surveyed a random and representative sampling of 600 adults residing in Winnipeg between September 8 and 18, 2022. With a sample of 600, one can say with 95 percent certainty that the results are within ± 4.0 percentage points of what they would have been if the entire adult population of Winnipeg had been surveyed. The margin of error is higher within each of the survey's population sub-groups.​
The sample consists of 236 Winnipeggers randomly recruited via live-agent operator, 208 Winnipeggers randomly recruited via Interactive Voice Response (IVR) and 156 members of Probe Research's online panel. All respondents completed the survey on an online platform. 
Modified random digit dialing, including both landline and wireless numbers, ensured all Winnipeg adults had an equal opportunity to participate in this Probe Research survey.
Minor statistical weighting has been applied to this sample to ensure that age and gender characteristics properly reflect known attributes of the city's population. All data analysis was performed using SPSS statistical analysis software.​