And just days after scoring a clutch highlight-reel goal in Game 3 of his team's playoff series with the St. Louis Blues – banking a sharp angle shot off the head of Blues' goaltender Jordan Binnington and into the back of the net – a new Probe Research survey breaking down Manitobans' views on the team and its playoff run finds that Dustin Byfuglien is the Jets' most popular player.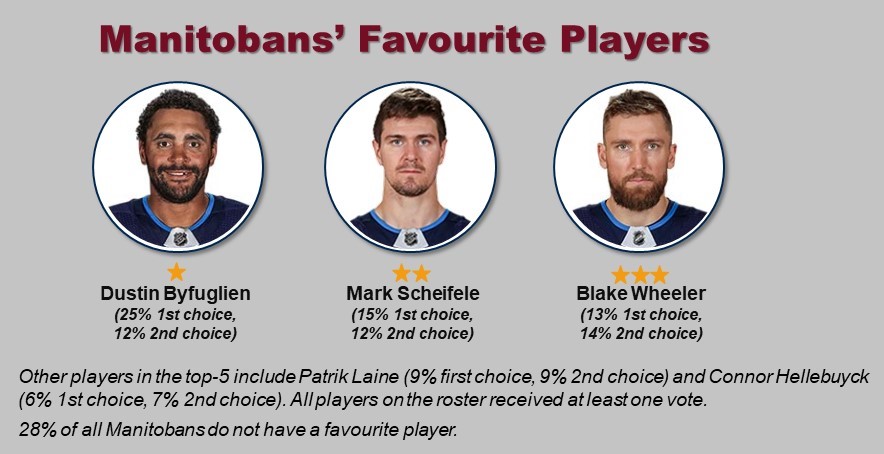 Manitobans were asked to rank their first and second-favourite Jets players. Byfuglien tops the list, with one-quarter (25%) saying the towering blueliner is their favourite player and another 12 per cent saying he's their second choice. 
Following Byfuglien are the Jets' other two designated on-ice leaders. High-scoring centre and assistant captain Mark Scheifele emerges as the second-most popular Jet among Manitobans, with his linemate and team captain Blake Wheeler finishing a close third in the voting.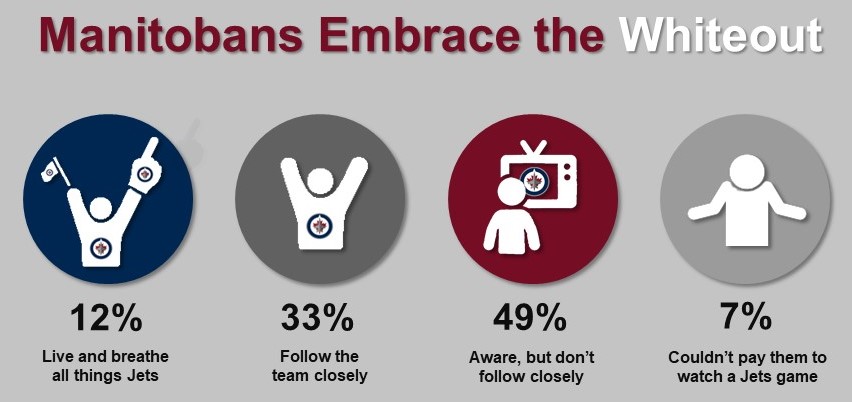 The survey also identified the four "tribes" of Jets fandom and finds that nearly all Manitobans follow the team to some degree. More than one-in-ten Manitobans are diehard Jets fans who live and breathe everything associated with the team, while four-in-ten follow the team closely. Another one-half of Manitobans don't follow hockey closely but are aware of what's happening with the team. Fewer than one-in-ten are completely tuned out agreeing that "you couldn't pay them" to watch a Jets game.
Interestingly, among the one-in-ten truly hardcore Jets fans, Scheifele is the top pick, followed by Wheeler and Byfuglien. Byfuglien's appeal is much stronger among the team's more casual fans and is particularly high among women and Indigenous Manitobans.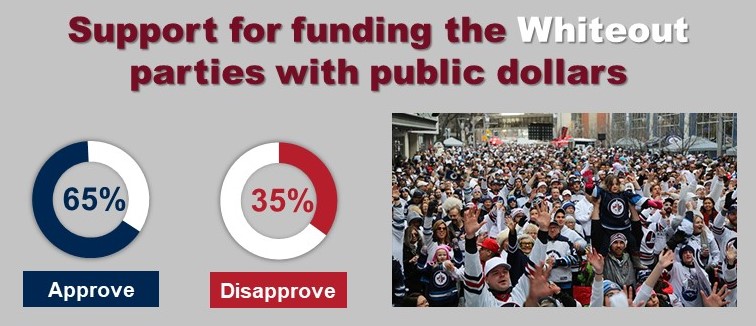 The survey also found widespread support for using public dollars to cover the costs of hosting the Winnipeg Whiteout parties taking place outside the Bell MTS Centre during home playoff games. Nearly two-thirds of Manitobans strongly or moderately approve of using city and provincial dollars to cover security and other related costs, with one-third opposed.
Not surprisingly, support for using public money to host the Whiteout parties is strongest among the team's most hardcore fans and diminishes based on the extent to which Manitobans care about and follow the team. Support for the Whiteout is consistent, however, across all other demographic groups, with both rural Manitobans and Winnipeg residents being equally supportive of using tax dollars to support these parties.
"The Jets truly bring Manitobans together," said Probe Research principal Curtis Brown. "Nearly all Manitobans have an opinion about the players and care deeply about the team and its fortunes during this playoff run. These results show the extent to which the Jets have permeated into our daily lives and our province's culture in a relatively short amount of time. No matter where you live and how much you care about hockey, it is hard to escape the impact of the Jets if you live here."
Methodology
This Probe Research survey of 1,000 Manitoba adults was conducted online between April 12th and April 17th, 2019. Respondents were recruited from the Probe Research online panel as well as from a national online panel provider. Minor statistical weighting was applied to ensure the survey sample is representative of the actual Manitoba population (based on the 2016 Census). An online survey is a non-probability sample, therefore no margin of error can be ascribed. (A probability sample of n=1,000 would have a corresponding margin of error of 3.1%, 19 times out of 20.)