A new Probe Research survey conducted for the Winnipeg Free Press and CTV Winnipeg finds that Manitobans are more likely to have negative than positive views of the leaders of the province's two major political parties.
More than one-half of Manitobans (54%) disapprove of Premier and Progressive Conservative Leader Brian Pallister's job performance, compared to four-in-ten (40%) who give him high marks. Manitoba NDP Leader Wab Kinew, meanwhile, receives approval from four-in-ten Manitobans (41%), with a similar proportion (43%) disapproving of his performance and 16 per cent indicating they are unsure.
The leaders of the two smaller parties have higher approval scores, with the Manitoba Liberals' Dougald Lamont receiving approval from four-in-ten Manitobans (42%, versus 27% disapprove and 31% unsure) and Green Party Leader James Beddome getting high marks from one-third of the public (36%, versus 20% disapprove and 45% unsure).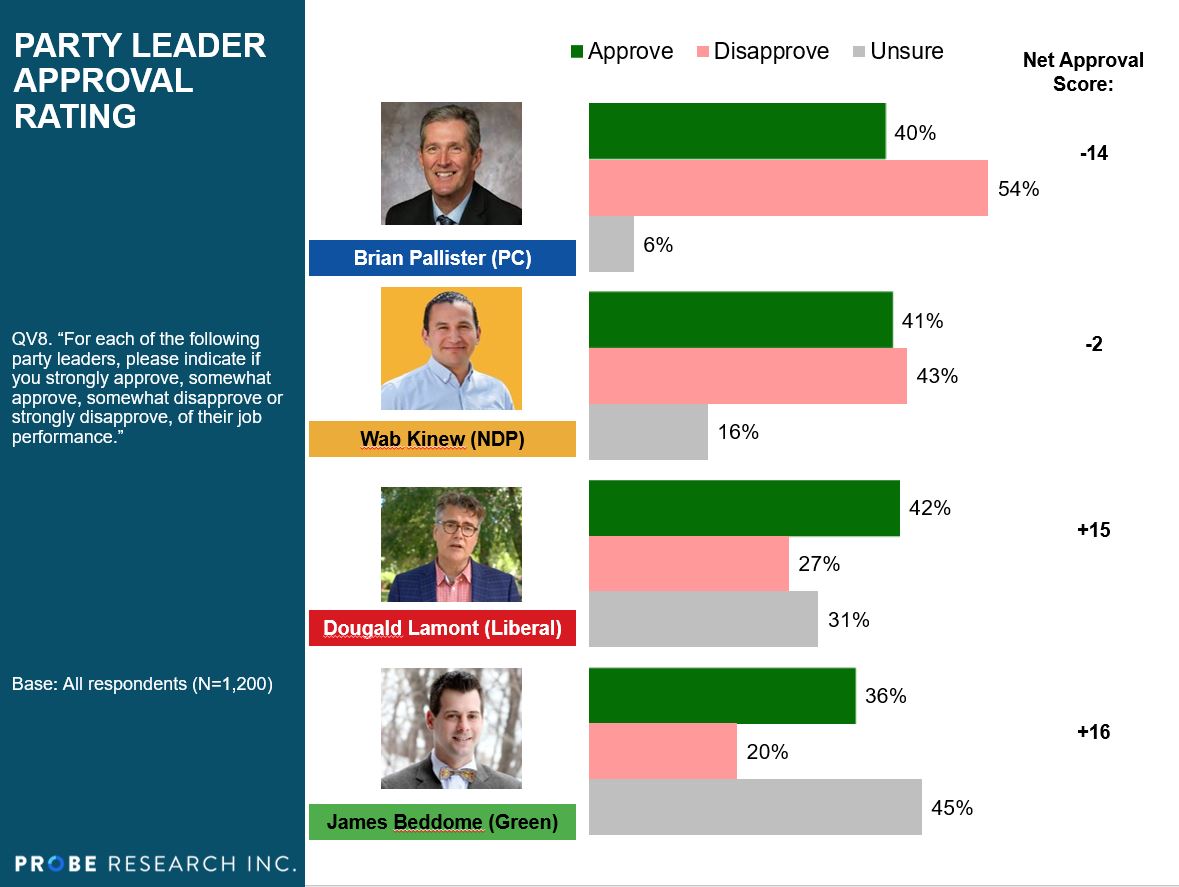 Other survey highlights include:
On balance, Manitobans have developed a negative view of both the Progressive Conservatives and New Democrats during the 2019 provincial election campaign. Four-in-ten Manitobans (42%) have a worse impression now of the PCs compared to when the campaign began in early August (compared to one-in-five who say they have a better view of the party), with one-third of Manitobans (35%) saying their impressions of the NDP are worse today compared to the beginning of the campaign. The only party that has a net positive approval score is the provincial Green Party (+15).
When asked to assess NDP Leader Wab Kinew's criminal record, Manitobans are somewhat split. Four-in-ten-indicate Mr. Kinew's past is a serious issue that may affect the likelihood of voting for his party, while just over three-in-ten accept Kinew's explanation that he is a changed person and would consider voting for the NDP anyway. When asked if Wab Kinew's past behaviour will affect their likelihood of voting for a NDP candidate in their constituency, one-in-five NDP voters say it makes them less likely to do so, with three-quarters indicating it makes no difference.
More than one-half of Manitobans feel Premier and Progressive Conservative Leader Brian Pallister's personal style – which has been described as somewhat abrasive – is "not helpful" to the province, with slightly more than three-in-ten actually saying it is helpful and about one-in-ten saying it makes no difference. Although supporters of other parties are significantly more likely than PC voters to feel that Pallister's style is detrimental, nearly one-in-five PC supporters concede his personal style is not particularly helpful.
Methodology: Between August 13th and 24th, 2019, Probe Research conducted an online survey of N=1,200 Manitoba adults on behalf of the Winnipeg Free Press and CTV Winnipeg. Respondents to the survey were recruited from Probe Research's proprietary online panel, as well as a national online panel. Minor statistical weighting has been applied to this sample to ensure that age, regional and gender characteristics properly reflect known attributes of Manitoba's population based on 2016 Census data. The sample has also been weighted by voting behaviour based on the results of the 2016 provincial election. Because an online panel is a sample of convenience, no statistical margin-of-error can be ascribed. For the purposes of comparison, a probabilistic sample of N=1,200 would have a margin of error of  ± 2.8 percentage points, 19 times out of 20.​
Note: Media outlets reporting on these survey results must attribute them to the survey sponsors (the Winnipeg Free Press and CTV Winnipeg).