A new Probe Research survey finds that relatively few Manitobans expect life to revert back to normal once the COVID-19 pandemic has passed.
Nearly six-in-ten residents feel society will have changed deeply once the crisis is over. Around one-quarter of Manitobans, on the other hand, do expect our earlier routines and ways of life to return while one-in-five were unable to predict what kind of post COVID-19 world will emerge. Interestingly, men were twice as likely as women to expect things to go back to normal after the pandemic.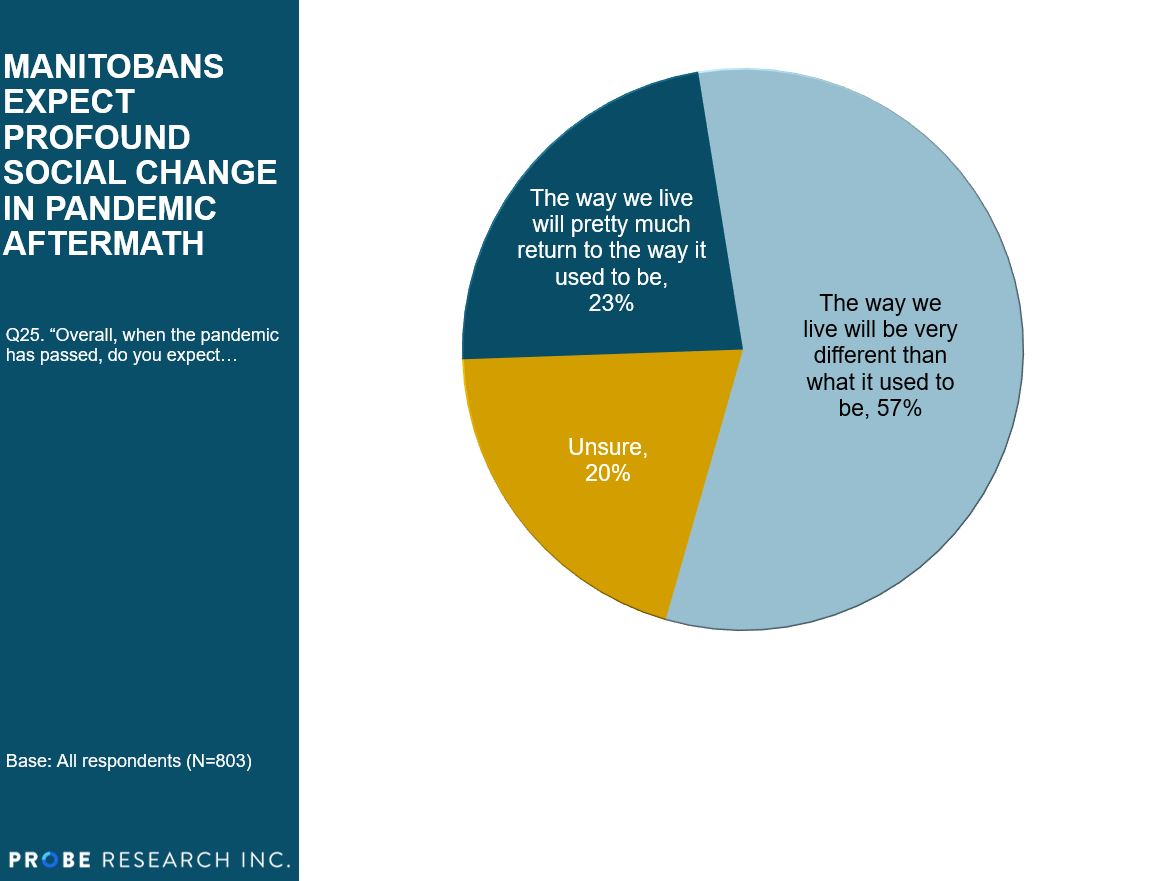 Even as Manitobans anticipate a dramatically altered post-pandemic reality, more than nine-in-ten adults in the province feel these changes will be enduring and last for many years to come, with seven-in-ten agreeing the pandemic will cause permanent economic damage. There is a strong consensus among Manitobans from all demographic groups and among citizens from all walks of life that this will be the case.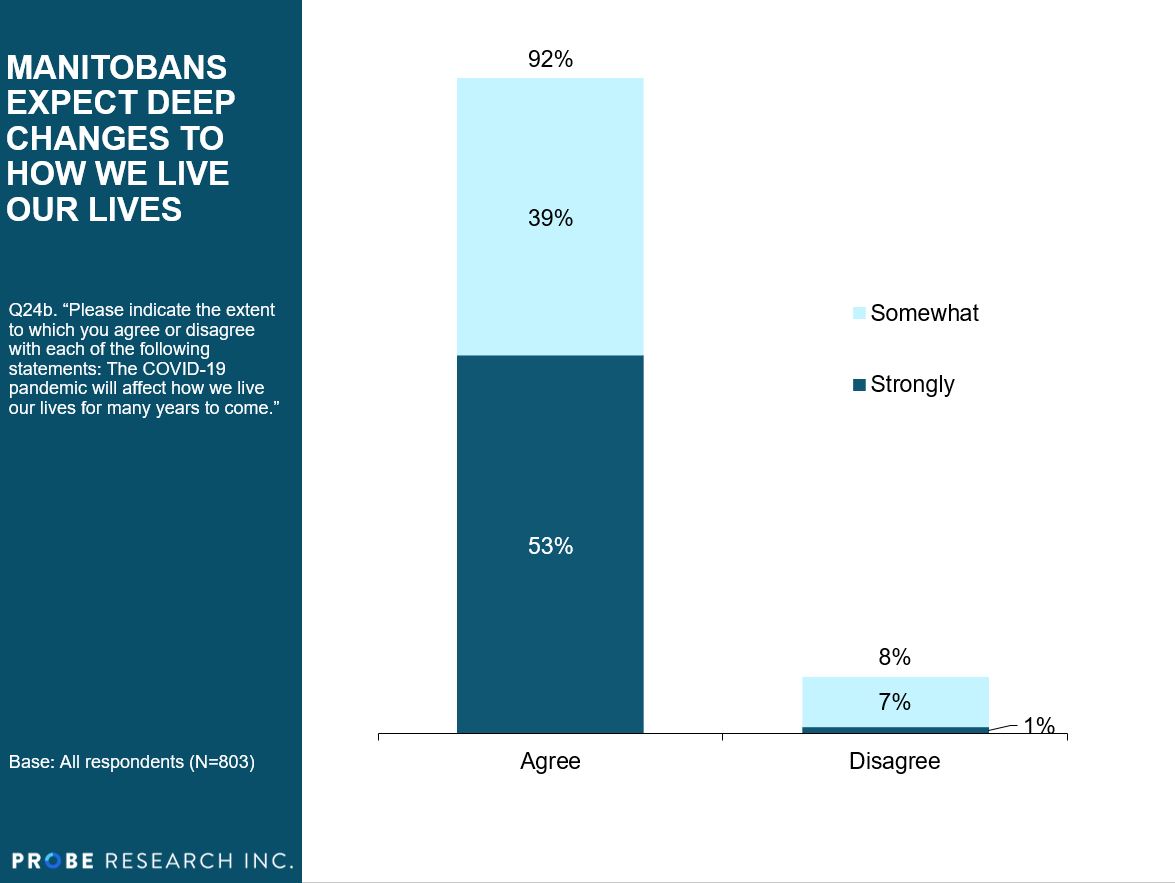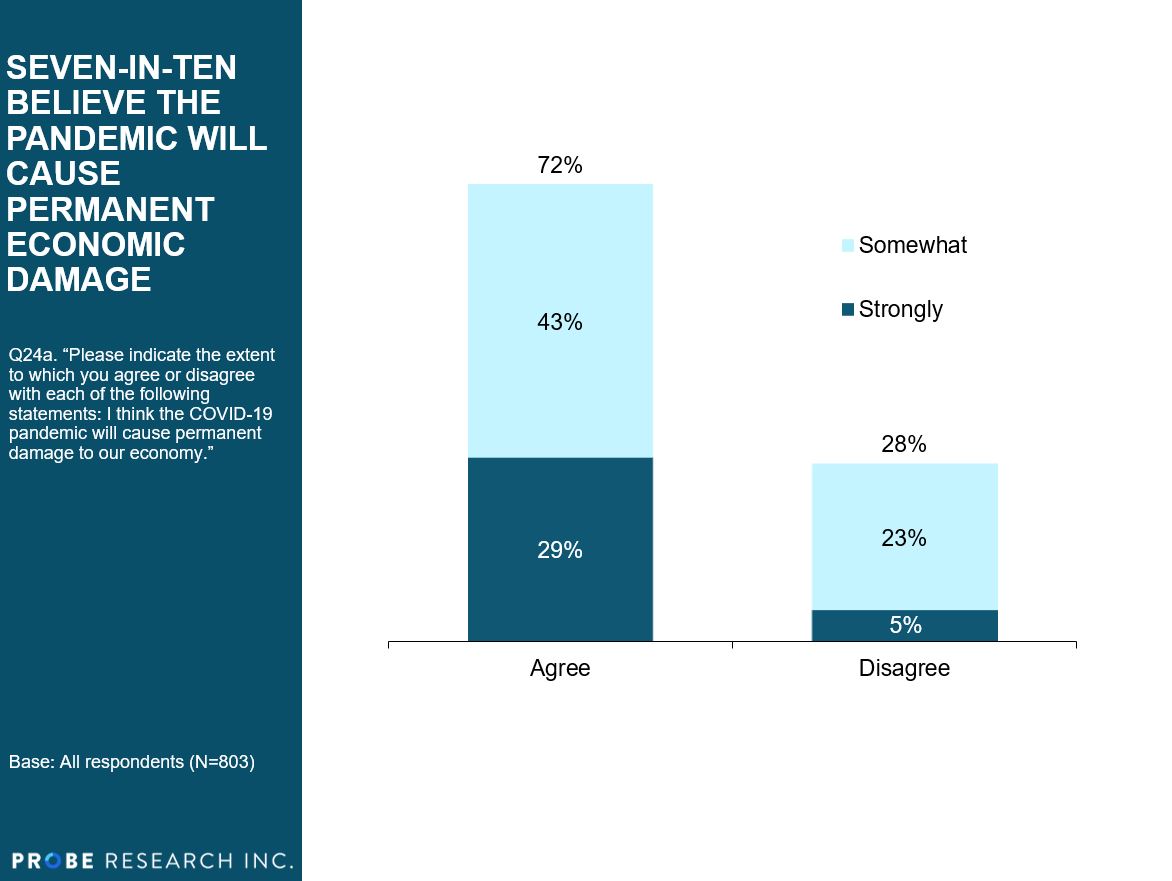 The proportion of Manitobans who feel COVID-19 is "overblown" has declined significantly since mid-to-late March. Only about one-in-five (down from one-third) now feel the danger is overhyped. Men – especially younger men – remain much more likely than women to see COVID-19 as overblown.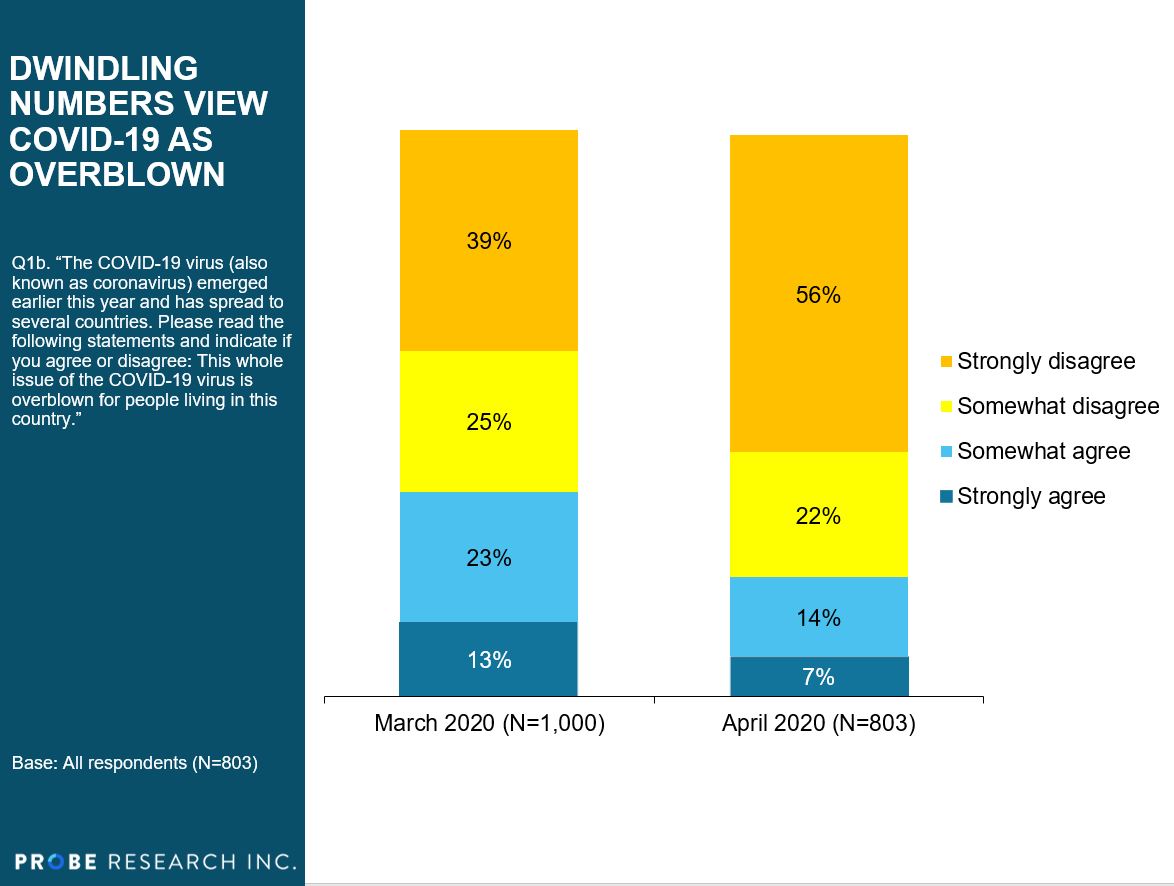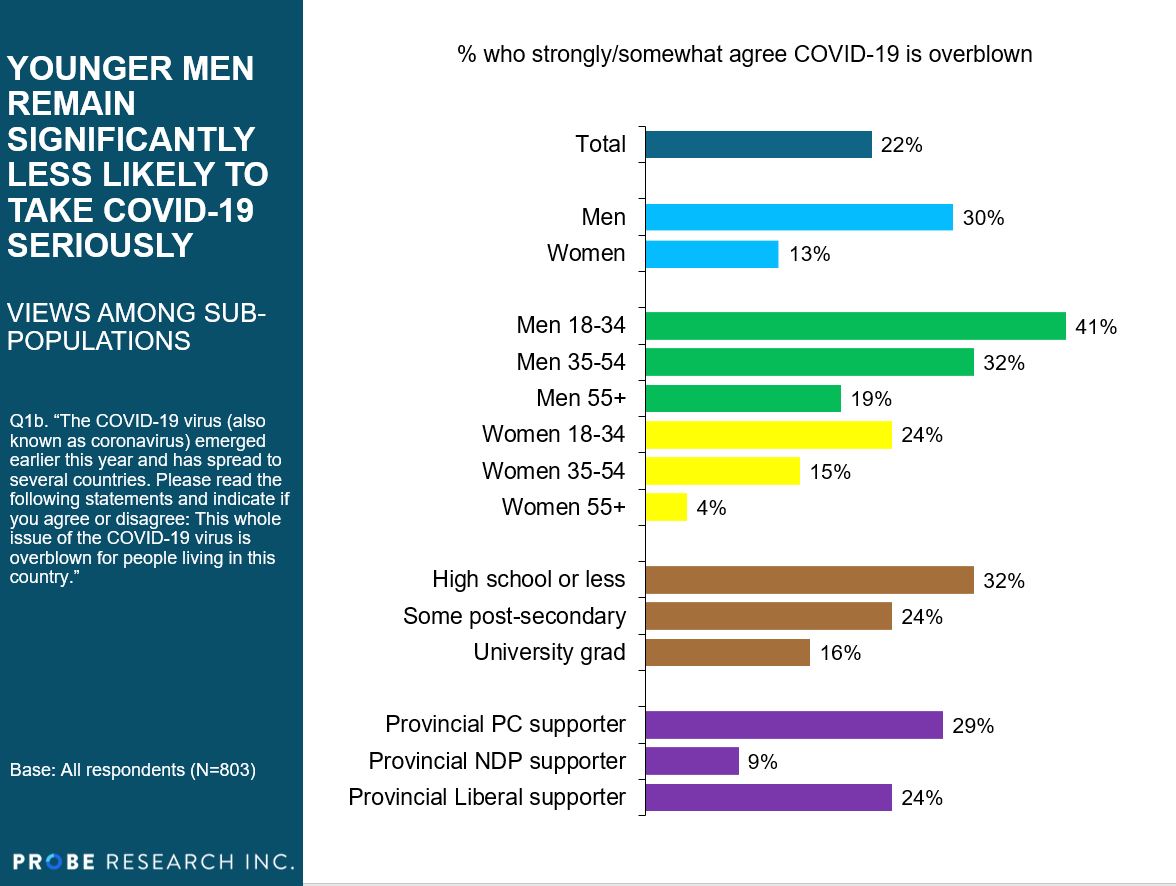 Public confidence in the provincial government's handling of COVID-19 has increased significantly since March. Right now, three-quarters of adults are confident the provincial government is prepared to address COVID-19 compared to only six-in-ten who felt this way one month ago. Rural Manitobans and those who intend to support either the provincial Progressive Conservatives (PCs) or Manitoba Liberal party in the next election are most likely to express confidence in the provincial government's handling of COVID-19.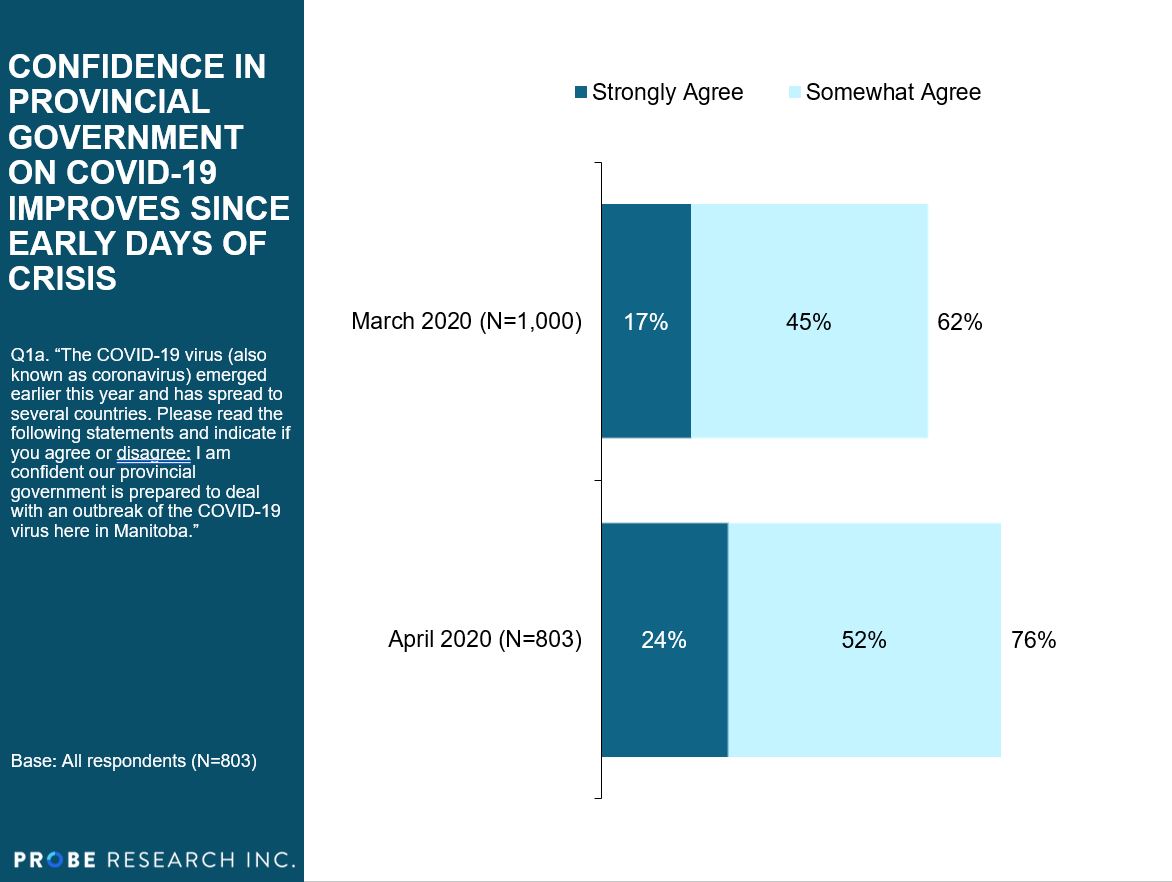 Methodology
Probe Research surveyed a total of N=803 Manitoba adults online between April 24th and 28th, 2020. Respondents were recruited from Probe Research's proprietary panel and supplemented with those from a national online panel provider. As an online survey is a sample of convenience, no margin-of-error can be ascribed. However, a random and representative non-convenience sample of 803 adults would have a margin of error of ± 3.46 percentage points, 19 times out of 20. Minor statistical weighting by age, gender and region has been applied to this sample to ensure that it corresponds with the province as a whole.
Disclosure Statement
Probe Research is a member of the Canadian Research Insights Council (CRIC) and confirms that this research fully complies with all CRIC Standards including the CRIC Public Opinion Research Standards and Disclosure Requirements. Learn more at: https://www.canadianresearchinsightscouncil.ca/standards/por/