Key Findings
Almost one-half of Manitobans say Premier Brian Pallister ought to have respected the fixed-date election legislation, a view that is particularly strong among Winnipeggers, older voters and university graduates. Even among PC supporters, nearly one-third say Premier Pallister should have held the election as planned in 2020. However, almost one-in-five say the premier can call an election whenever he sees fit, and one-third say the timing of the next provincial election is of no great concern to them.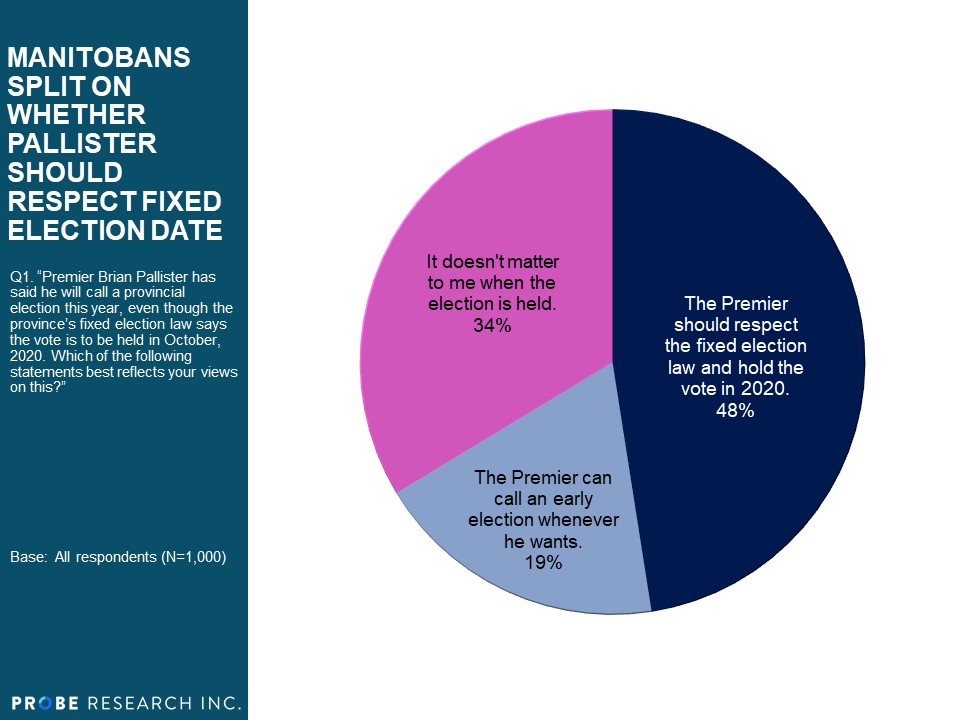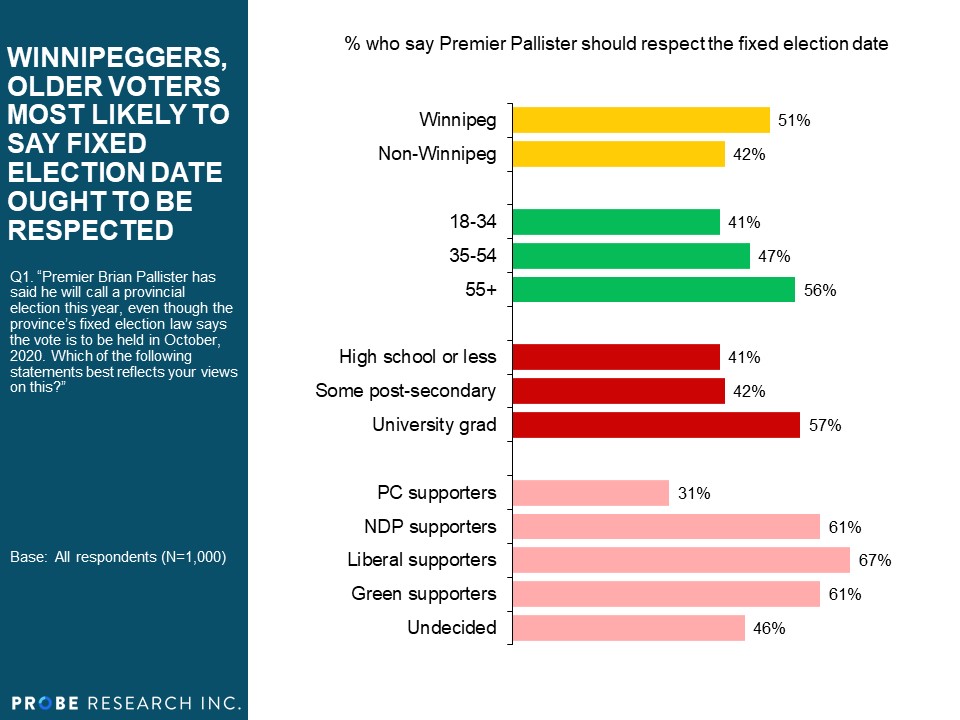 There has been considerable speculation about Premier Pallister's reasons for going to the polls more than a year early. Nearly two-thirds of Manitobans believe fear of a public backlash over looming budget cuts is driving the premier's decision.
Nearly one-half of Manitobans agree with Premier Pallister and would prefer not to have next year's Manitoba 150 celebrations marred by a provincial election campaign.
Nearly six-in-ten Manitobans would prefer not to have a provincial campaign so close to a federal campaign. (The federal vote is scheduled six weeks after the provincial vote.)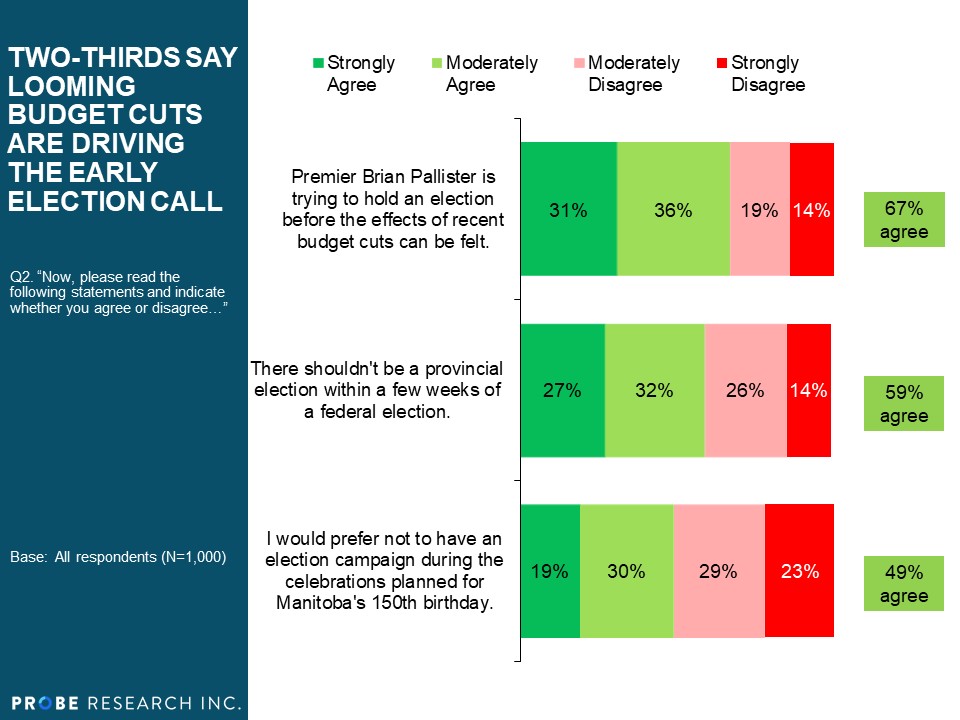 Despite these sentiments, the early election call is unlikely to drive significant numbers of voters away from the PCs. One-half of Manitobans say the early election date will have no impact on their support for the PCs, while one-in-five say it may make them less likely to vote for the party.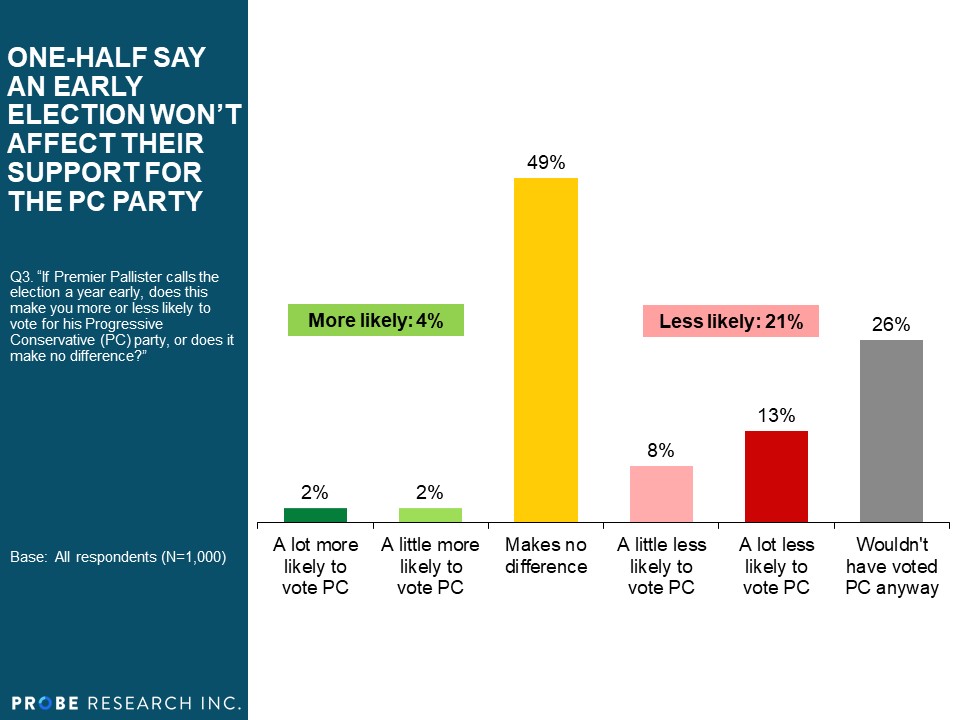 About the Probe Research Omnibus
For more than two decades, Probe Research Inc. has undertaken quarterly omnibus surveys of random and representative samples of Manitoba adults. These scientific telephone surveys have provided strategic and proprietary insights to hundreds of public, private and not-for-profit clients on a range of social, cultural and public policy topics. The Probe Research Omnibus Survey is the province's largest and most trusted general population survey. ​
Survey Instrument
The survey instrument was designed by Probe Research in close consultation with the Winnipeg Free Press.
Methodology
Between June 4th and 17th, 2019, Probe Research surveyed a random and representative sampling of 1,000 adults residing in Manitoba.
With a sample of 1,000, one can say with 95 percent certainty that the results are within ± 3.1 percentage points of what they would have been if the entire adult population of Manitoba had been surveyed. The margin of error is higher within each of the survey's population sub-groups.​
Modified random digit dialing, including both landline and wireless numbers, ensured all Manitoba adults had an equal opportunity to participate in this Probe Research survey. A CATI-to-web approach was employed whereby a live-voice operator randomly recruited respondents by telephone, inviting them to complete the survey via a secure online questionnaire. In addition, 258 randomly recruited Probe Research panel members were included in this general population adult sampling.​
Minor statistical weighting has been applied to this sample to ensure that age and gender characteristics properly reflect known attributes of the province's population. All data analysis was performed using SPSS statistical analysis software.​