Winnipeg – A strong majority of Manitobans support the provincial government implementing a public health order making it mandatory to wear masks in indoor public places, a new survey conducted by Probe Research and EPI Research finds. More than eight-in-ten Manitobans back this measure, including six-in-ten who are strongly in favour of this idea.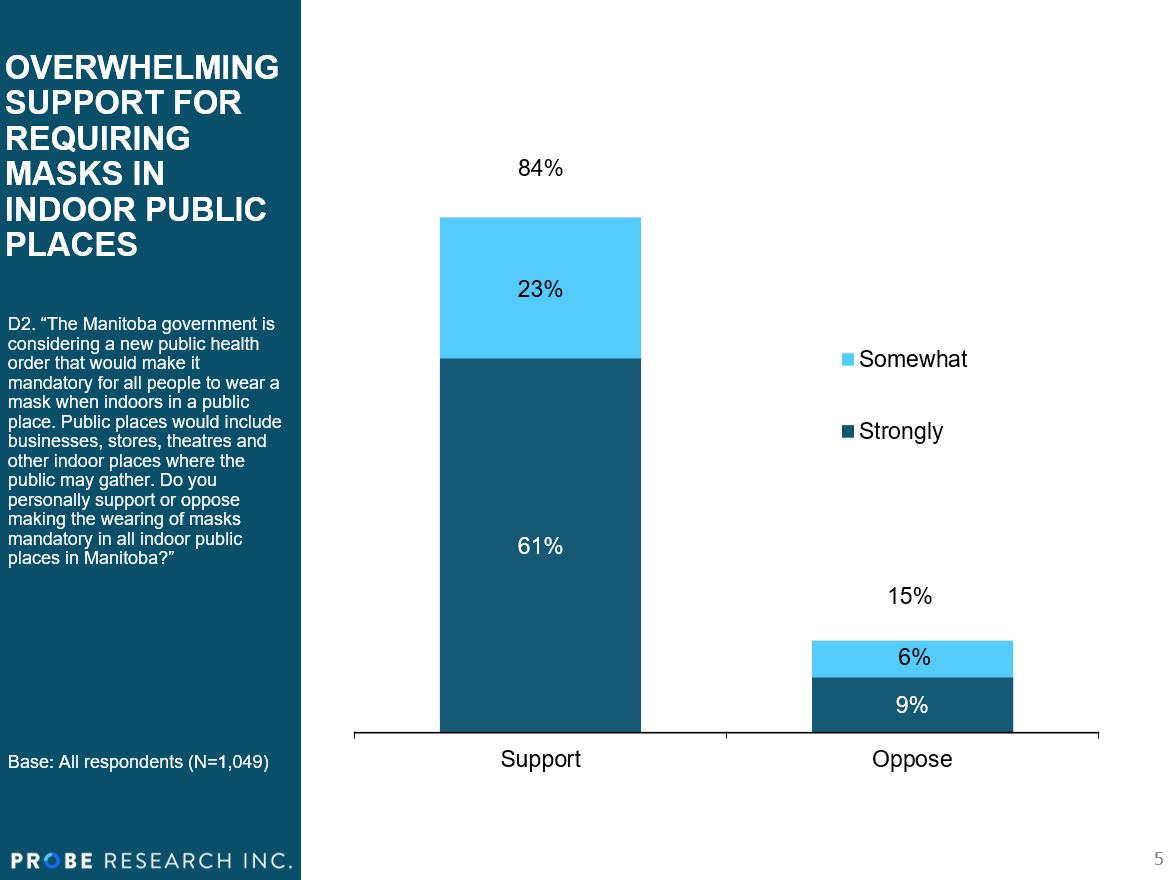 Mask-Wearing Behaviour
While nine-in-ten Manitobans report wearing masks at some point outside the home, only slightly more than one-third report they always do so. More than eight-in-ten Manitobans say they wear masks in these settings because it's appropriate to do so, with slightly fewer than one-in-five saying they will only do it when absolutely necessary. It's also important to note that one-in-ten Manitobans report never wearing a mask outside their home.
Those who are not consistent mask-wearers are most likely to cite three main reasons for not doing so: that it is too uncomfortable, that masks do not protect them personally from COVID-19 and that masks do not prevent the spread of this virus.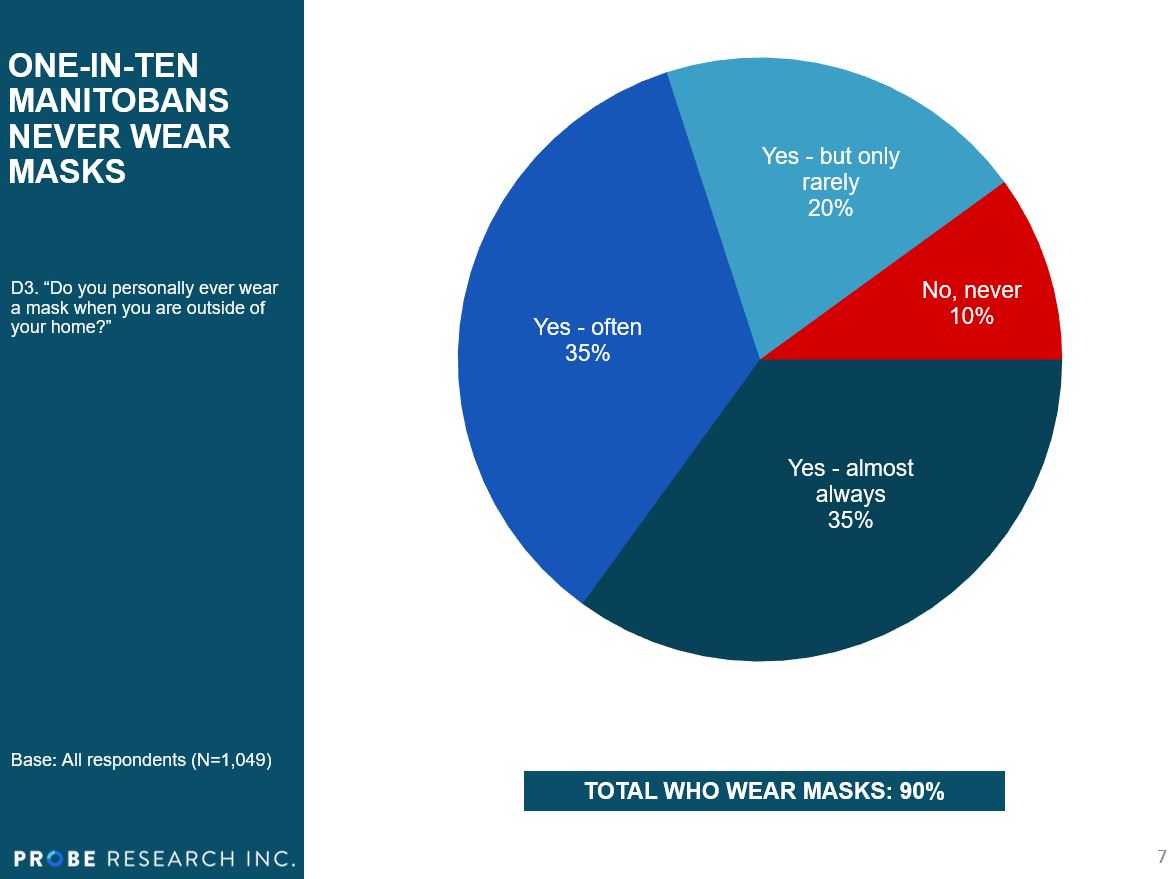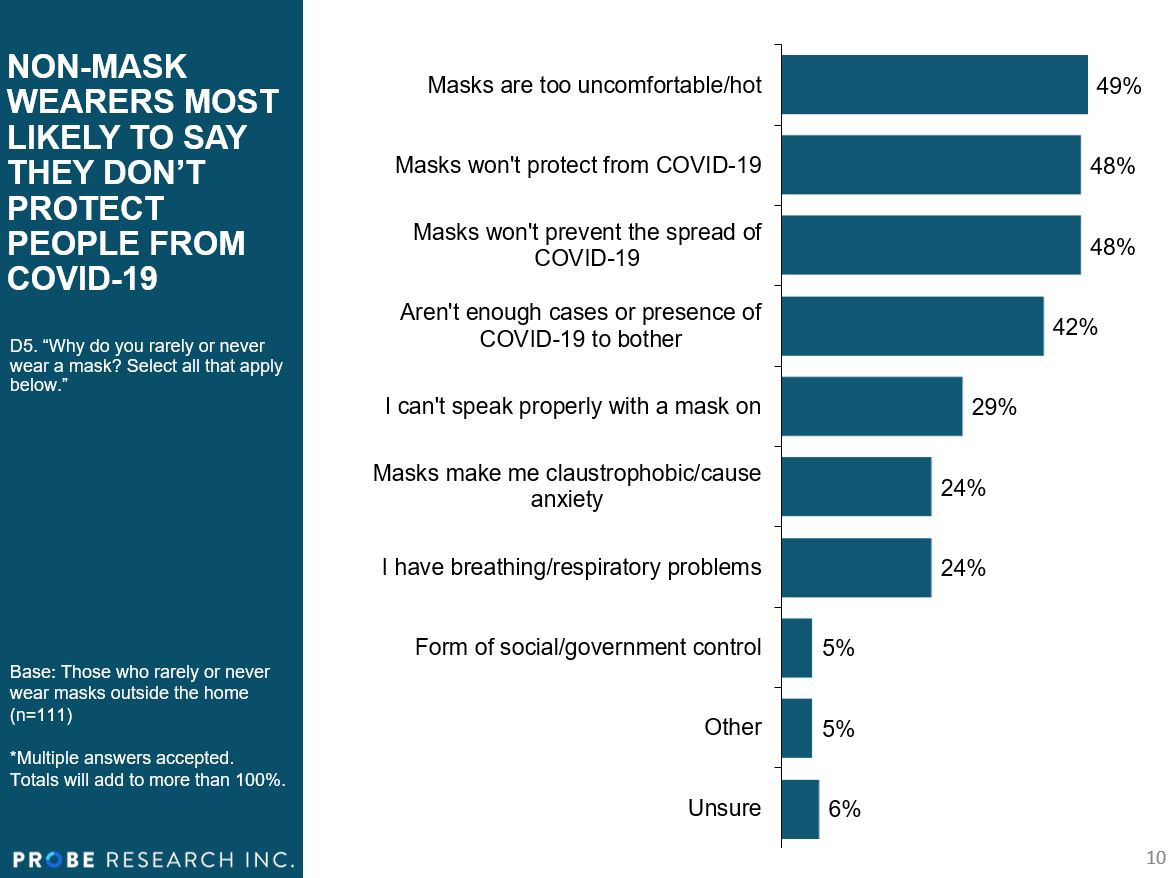 Most Say Seeing Masks Makes Them Feel Comfortable
While at one time the sight of masks may have made people feel uncomfortable, today more than eight-in-ten Manitobans say that seeing people wear masks in public places makes them feel comfortable, with fully one-half saying it makes them feel very reassured. Among the 16 per cent of Manitobans who say wearing masks makes them feel uncomfortable, their main concern is that masks hide people's faces.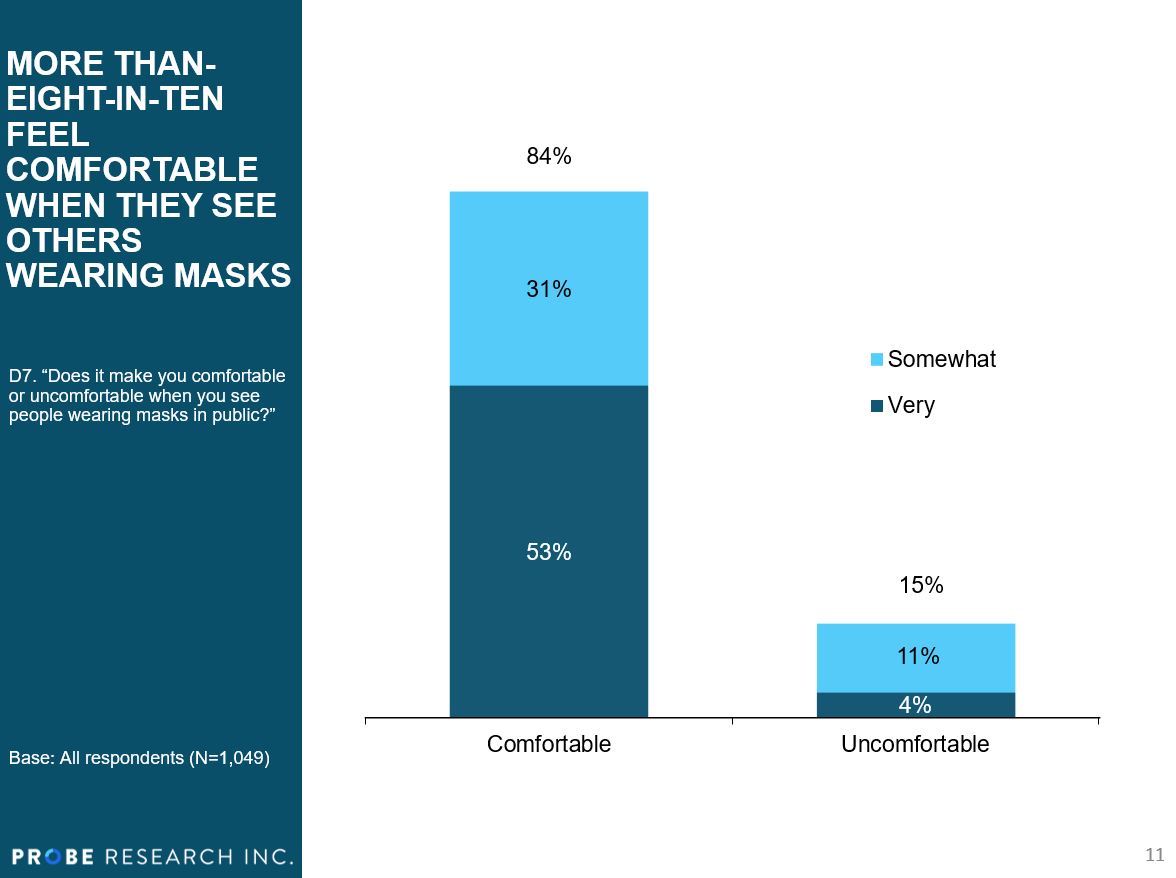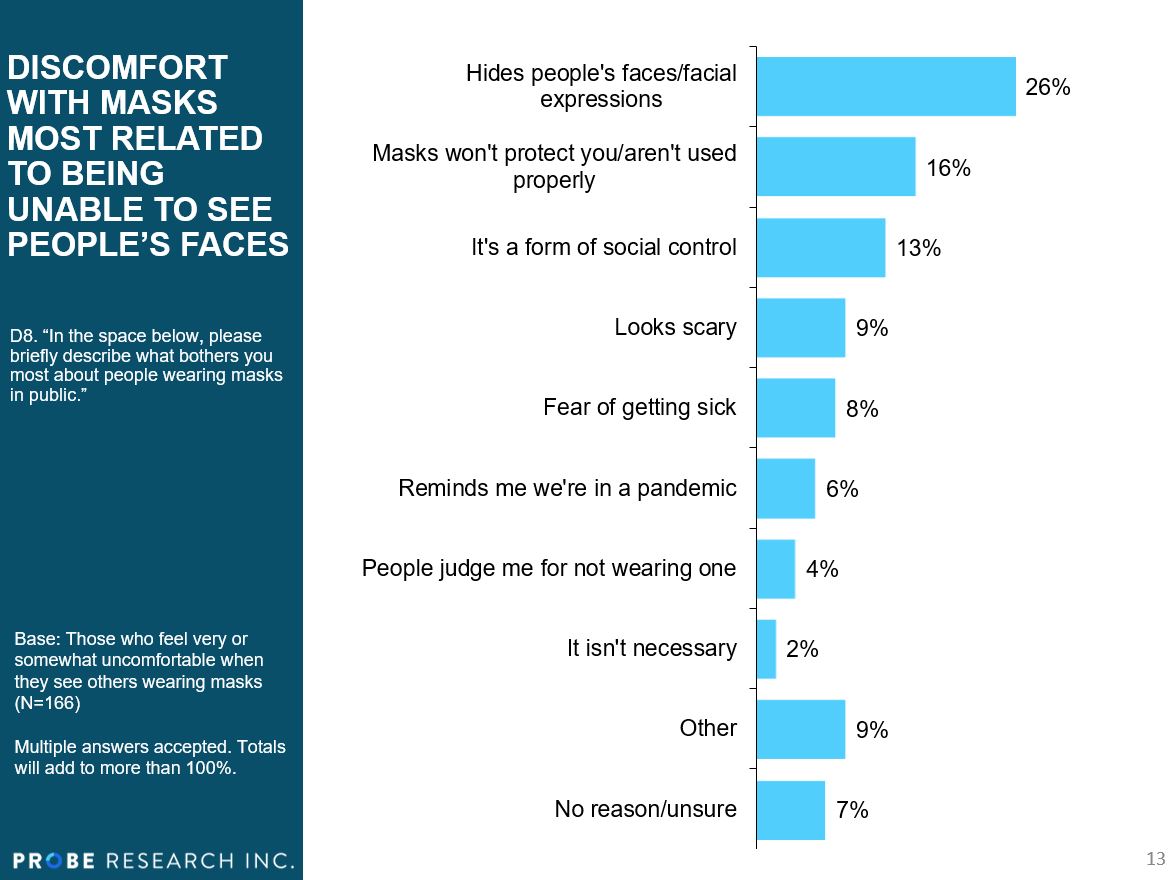 Meanwhile, seven-in-ten Manitobans are concerned about contracting COVID-19, including nearly one-quarter who are very concerned about this.
Women, Older Adults More Likely To Favour Mandatory Masks - And Wear Masks Themselves
There is a consistent pattern within these results, with women (especially older women), Winnipeggers and those with higher levels of education being more likely to be strongly in favour of making masks mandatory in indoor public spaces. Members of these groups are also more likely to report wearing masks regularly and feeling more comfortable when others are wearing masks. Men – especially those aged 35-54 – and those with lower levels of formal education are more likely to resist efforts to encourage higher levels of mask adoption.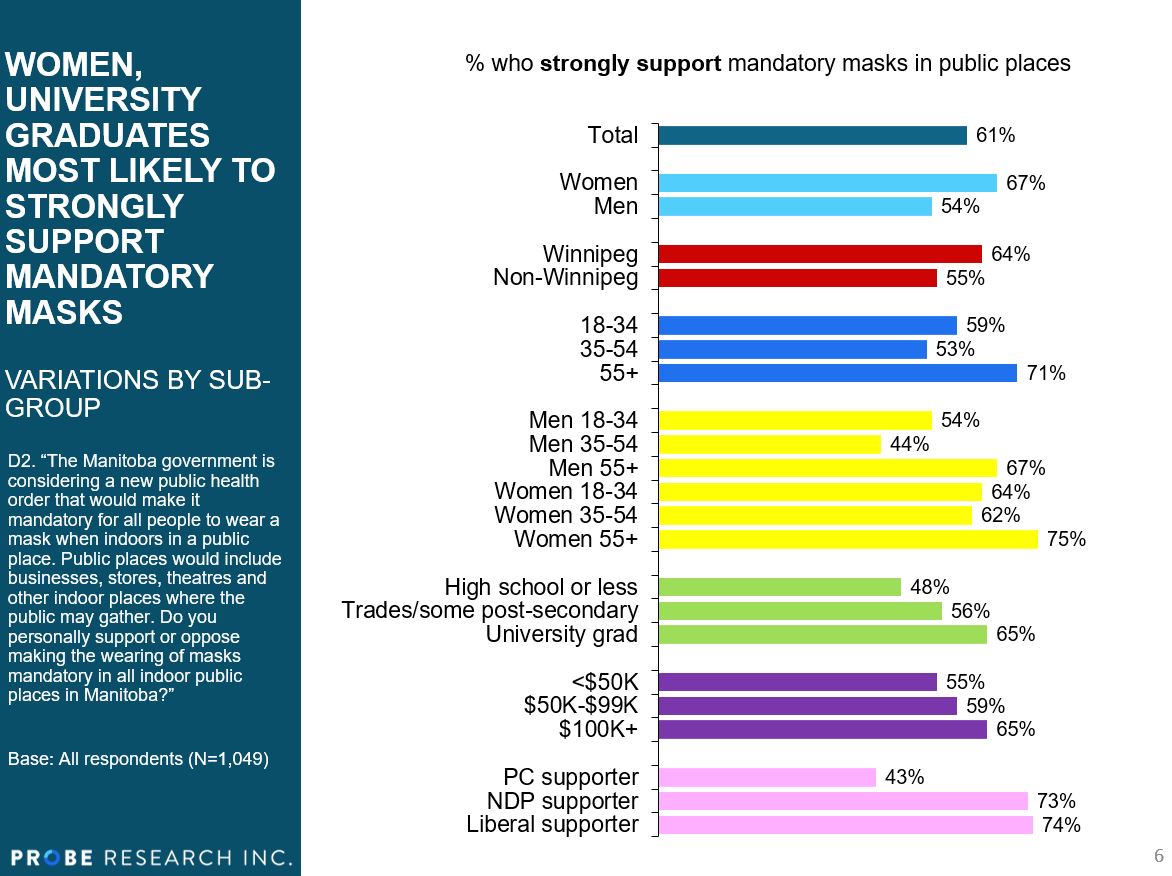 There is a stark partisan divide on the issue of masks that presents a dilemma for Manitoba's governing Progressive Conservative party. Although an overall majority of PC supporters back the idea of making masks mandatory in all public spaces, only four-in-ten PC voters strongly support this measure compared to nearly three-quarters of those who prefer the NDP and provincial Liberals. PC supporters are also less likely to consistently wear masks, less likely to feel comfortable when they see others wearing masks and less likely to be concerned about contracting COVID-19 themselves.
Disclosure Statement
Probe Research is a member of the Canadian Research Insights Council (CRIC) and confirms that this research fully complies with all CRIC Standards including the CRIC Public Opinion Research Standards and Disclosure Requirements. Learn more at: https://www.canadianresearchinsightscouncil.ca/standards/por/
Methodology
The survey questions were designed as part of a collaboration between Probe Research and EPI Research. Between August 19th and 29th, 2020, Probe Research surveyed a representative sampling of 1,049 Manitoba adults. The sample was provided by Probe Research's proprietary panel and supplemented by respondents from a national panel provider. An online survey is a sample of convenience, so no margin of error can be ascribed. However, a random and representative non-convenience sample of 1,049 Manitoba adults would have a margin of error of ± 3.0 percentage points, 19 times out of 20. The margin of error is higher within each of the survey's population sub-groups. Minor statistical weighting has been applied to this sample to ensure that age and gender characteristics properly reflect known attributes of the province's population. All data analysis was performed using SPSS statistical analysis software.​