Manitoba's provincial political scene has become more competitive in the wake of the resignation of Progressive Conservative Premier Brian Pallister. A new Probe Research survey conducted for the Winnipeg Free Press finds the gap between the PCs and New Democratic Party (NDP) has narrowed from 18 percentage points in June to just seven. Much of this renewed PC strength is being drawn from male voters and voters in higher income households. The PCs are also showing a strong rebound in support among those residing in northeast and southeast Winnipeg.
Part 1: Vote Intention
In this latest sounding, the NDP remains the most popular party in Manitoba with 42 per cent indicating they would cast a ballot for this party's candidate in September (42%, down from 47% in June). PC support has rebounded from a low of 29 per cent province-wide in June to 35 per cent today. Twelve per cent of decided voters prefer the Manitoba Liberals (-2% vs. June), with three per cent expressing support for the Greens (-2%). 
A new trend has also emerged, likely related to the growth in support for the People's Party of Canada in the recent federal election. In indicating their vote preference, more decided voters are choosing "other", predominantly the PPC (which does not currently have provincial party status). Roughly eight per cent of decided voters now favour other, non-traditional provincial parties, up from five per cent in June and three per cent one year ago, in September 2020.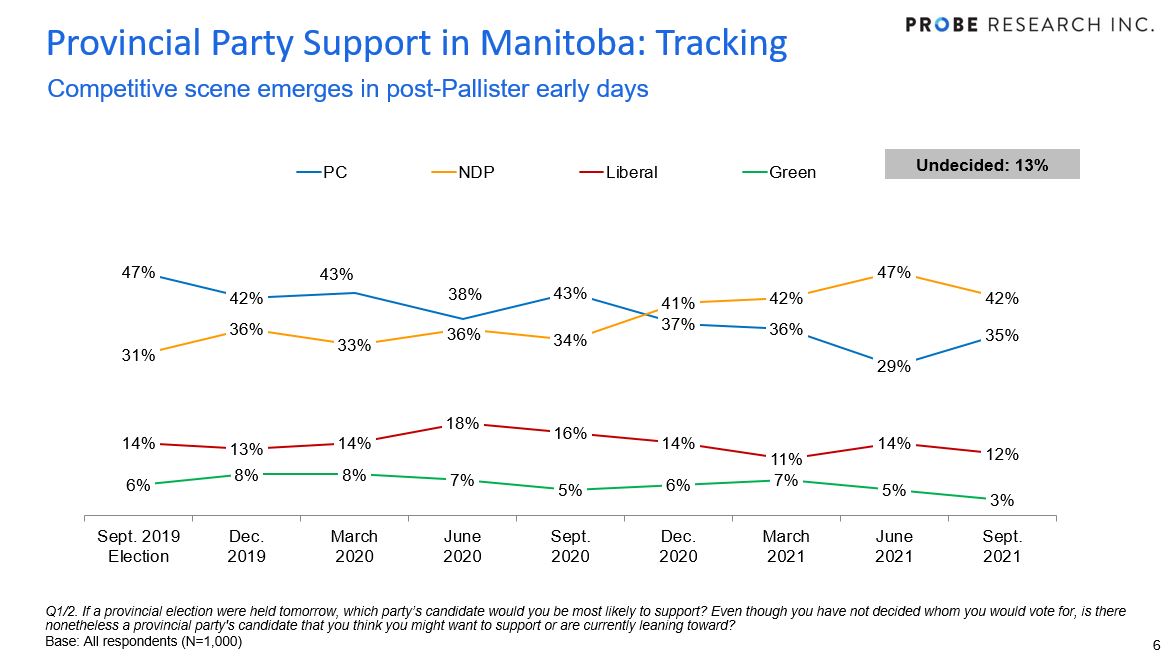 While increasing levels of support for the Manitoba PCs is apparent in almost all regions and across most socio-demographic groups, it is important to note that the NDP continues to enjoy a 23-percentage point advantage over the PCs in battleground Winnipeg. Moreover, PC support among female voters has not moved much since June, as women continue to support the NDP by a two-to-one ratio over the PCs.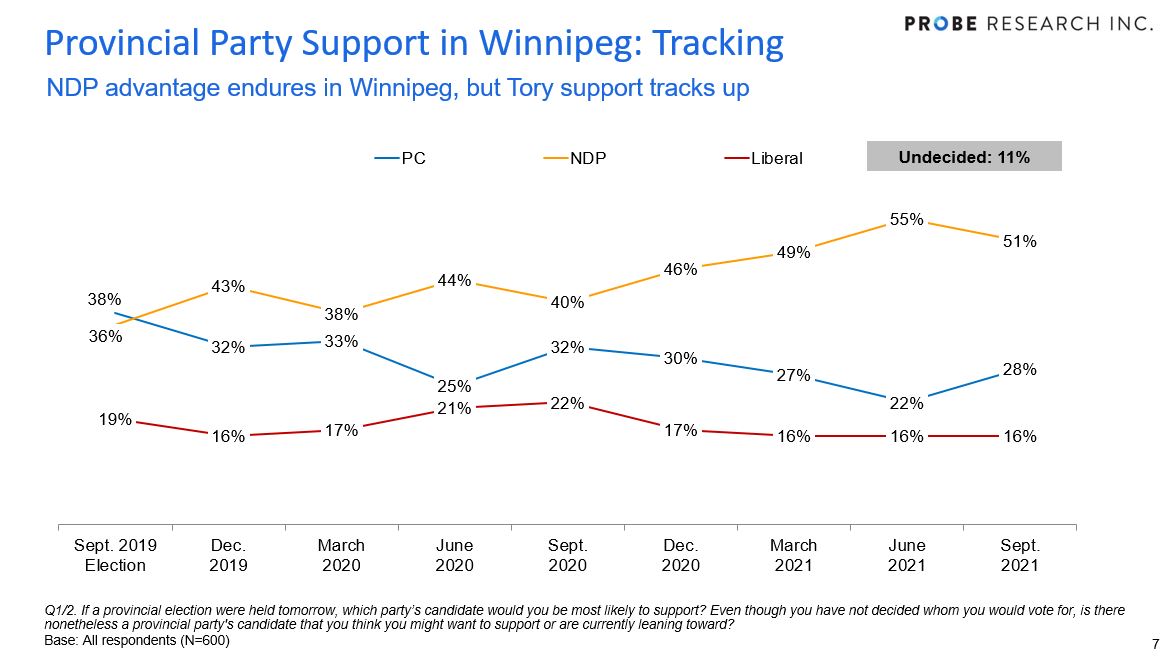 Part 2: Leadership
Probe Research also examined public levels of recognition and the appeal of potential Manitoba Progressive Conservative (PC) party leadership candidates. The one member, one vote PC leadership contest will take place on October 30, 2021.
Based on the timing of this survey, the choices for respondents included Tuxedo MLA Heather Stefanson, former St. Boniface-St. Vital MP Shelly Glover and McPhillips MLA Shannon Martin. Martin announced his intent to run prior to the survey going into field, but withdrew before the Sept. 15 cutoff. The survey did not include former PC party CFO Ken Lee - who announced his intent to run, but did not meet the party's requirements - as he declared his intention after the survey went into field. In the end, the choice will be between Ms. Stefanson and Ms. Glover.
 As basic name recognition is often a key prerequisite for political success, it is interesting to note that both official PC leadership candidates enjoy virtually equal levels of public visibility. Around three-quarters of Manitoba adults report they are acquainted with both Shelly Glover and Heather Stefanson although a slightly higher proportion of the public is very familiar with Ms. Glover compared to Ms. Stefanson.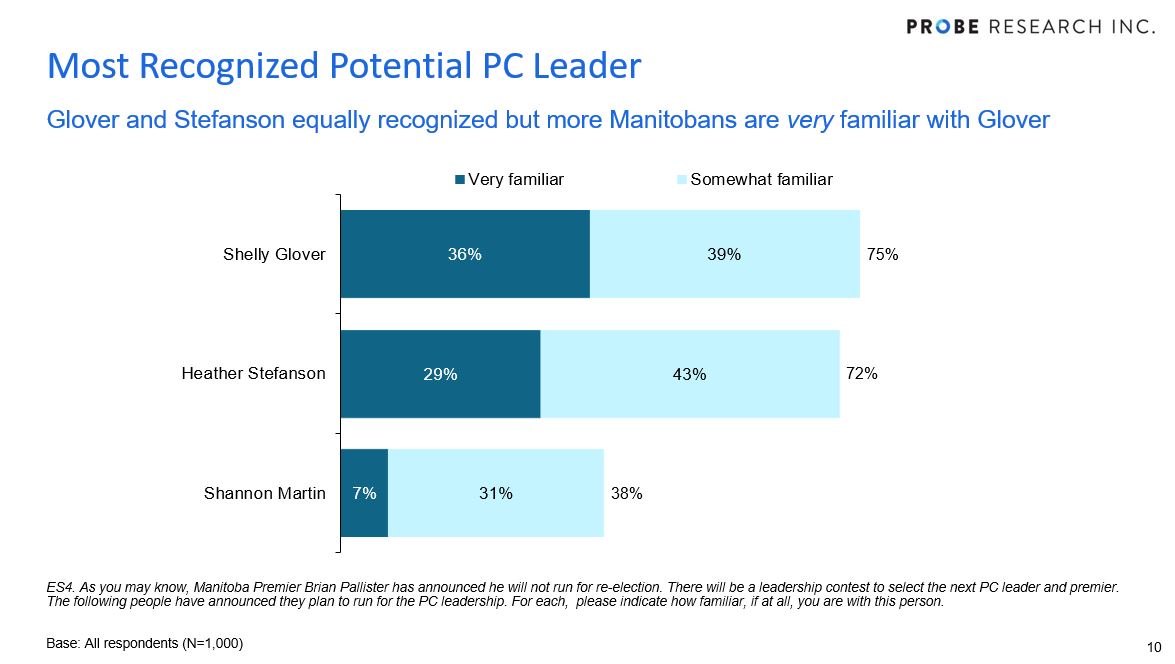 On the question of which candidate is seen as the best potential PC leader and premier, Heather Stefanson is selected by around one-half of Manitobans when making a first and second choice in a three-person contest. Shelly Glover trailed Ms. Stefanson with the endorsement of around four in ten (first and second choice) adult Manitobans.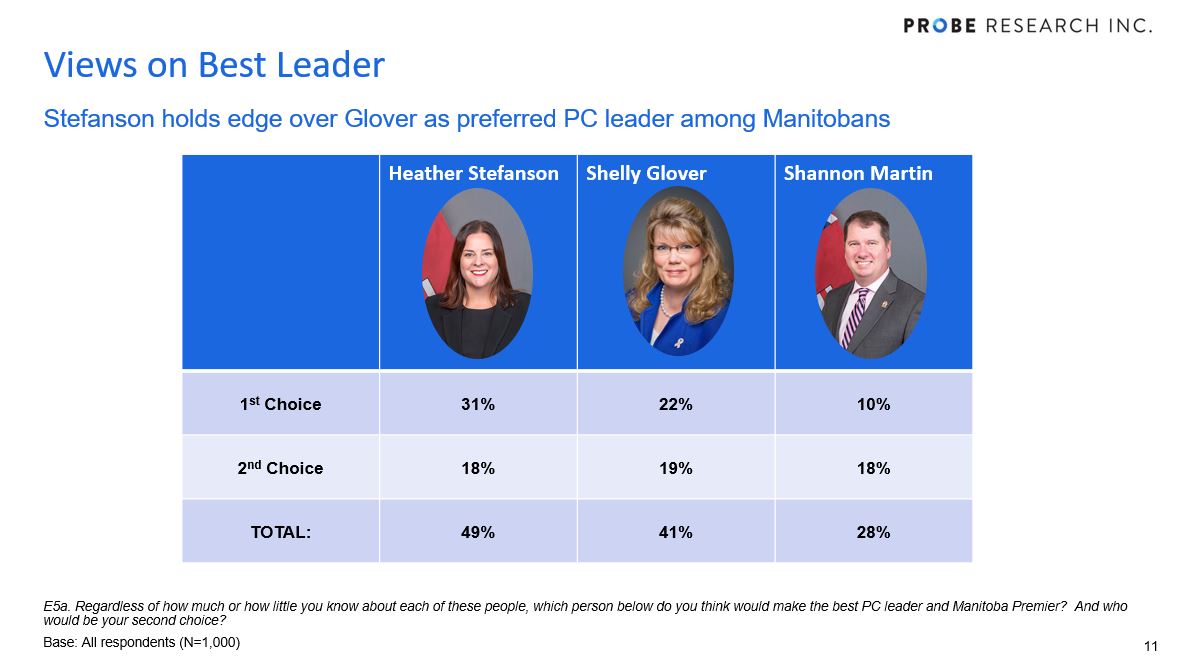 The prospect of growing the support level of PC candidates in the next Manitoba general election with either of these two leadership candidates is significant. Fully one-half of the larger electorate suggest they would at least consider voting PC with either Heather Stefanson or Shelly Glover leading the party. This figure rises to about eight in ten among those who cast ballots for the PCs in the 2019 provincial election, suggesting that either candidate will appeal to lapsed PC voters.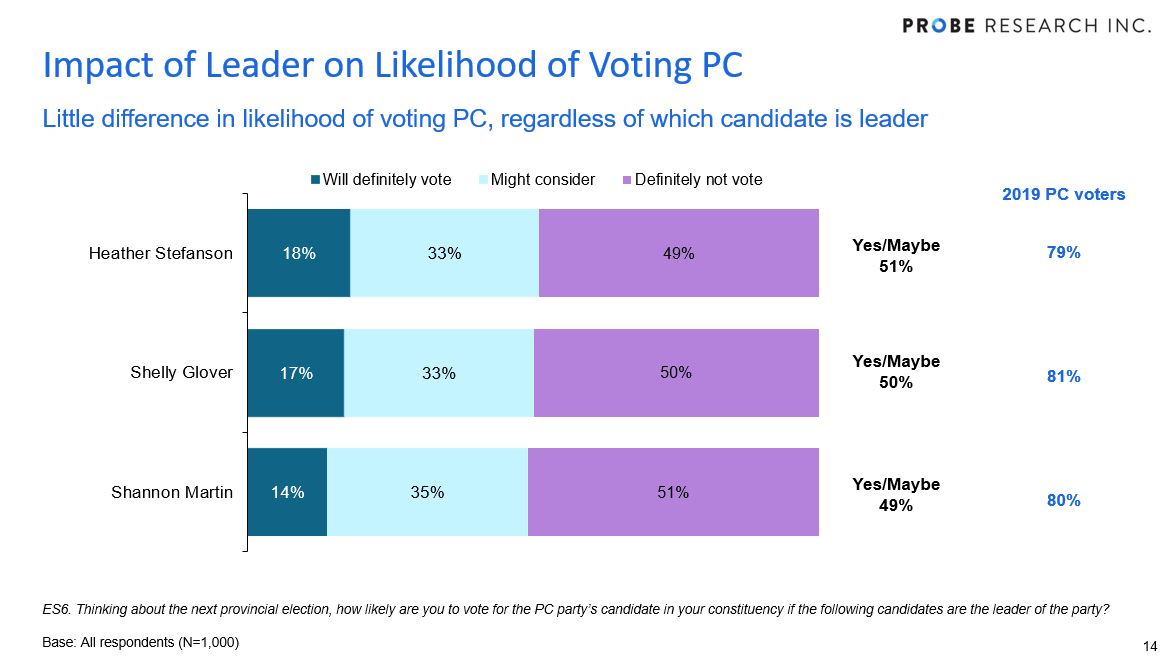 Ms. Glover's support, meanwhile, may be bolstered by the fact that seven in ten Manitoba adults – including more than one-half of those who voted for the party in the last provincial election – feel the PCs would be better off with a leader untarnished by the legacy of former premier Brian Pallister. An even larger number agree that PC MLAs (like Ms. Stefanson) who did not publicly rebuff some of Mr. Pallister's more controversial positions should be considered as tacit supporters of those views.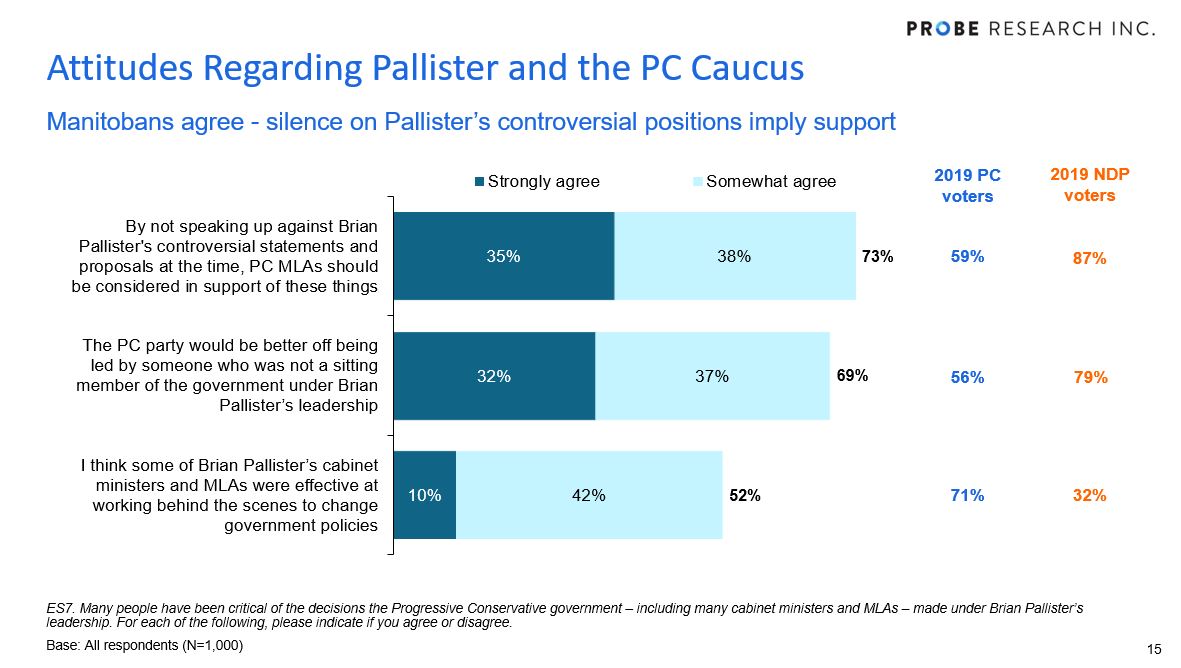 About the Probe Research Omnibus
For more than two decades, Probe Research Inc. has undertaken quarterly omnibus surveys of random and representative samples of Manitoba adults. These scientific telephone surveys have provided strategic and proprietary insights to hundreds of public, private and not-for-profit clients on a range of social, cultural and public policy topics. The Probe Research Omnibus Survey is the province's largest and most trusted general population survey.
Disclosure Statement
Probe Research is a member of the Canadian Research Insights Council (CRIC) and confirms that this research fully complies with all CRIC Standards including the CRIC Public Opinion Research Standards and Disclosure Requirements. Learn more at: https://www.canadianresearchinsightscouncil.ca/standards/por/
Methodology
Between September 7 and 20, 2021 Probe Research surveyed a random and representative sampling of 1,000 adults residing in Manitoba. With a sample of 1,000, one can say with 95 percent certainty that the results are within ± 3.1 percentage points of what they would have been if the entire adult population of Manitoba had been surveyed. The margin of error is higher within each of the survey's population sub-groups.​
The sample consists of 447 Manitobans randomly recruited via live-agent operator; 342 Manitobans randomly recruited via Interactive Voice Response (IVR) and 211 members of Probe Research's online panel. All respondents completed the survey on an online platform.
Modified random digit dialing, including both landline and wireless numbers, ensured all Manitoba adults had an equal opportunity to participate in this Probe Research survey. Minor statistical weighting has been applied to this sample to ensure that age and gender characteristics properly reflect known attributes of the province's population. All data analysis was performed using SPSS statistical analysis software.​