As caretaker premier Kelvin Goertzen prepares to hand over the office to his successor, a new Probe Research survey finds a majority of Manitobans approve of the way Premier Goertzen has handled the COVID-19 pandemic during his two months in office.
More than six in ten Manitobans strongly or somewhat approve of Goertzen's performance – double the proportion who approved of former premier Brian Pallister's performance when this question was last asked in June. A slightly higher proportion of Manitobans also approve of the current health minister's performance. Slightly more than one-half think Audrey Gordon is doing a good job, compared to four in ten who approved of the approach her two immediate predecessors took to the pandemic.
While Manitobans are happier now with the work of their political leaders when it comes to COVID-19, they remain more likely to praise non-partisan public health officials such as Dr. Brent Roussin, Dr. Joss Reimer and Lanette Siragusa.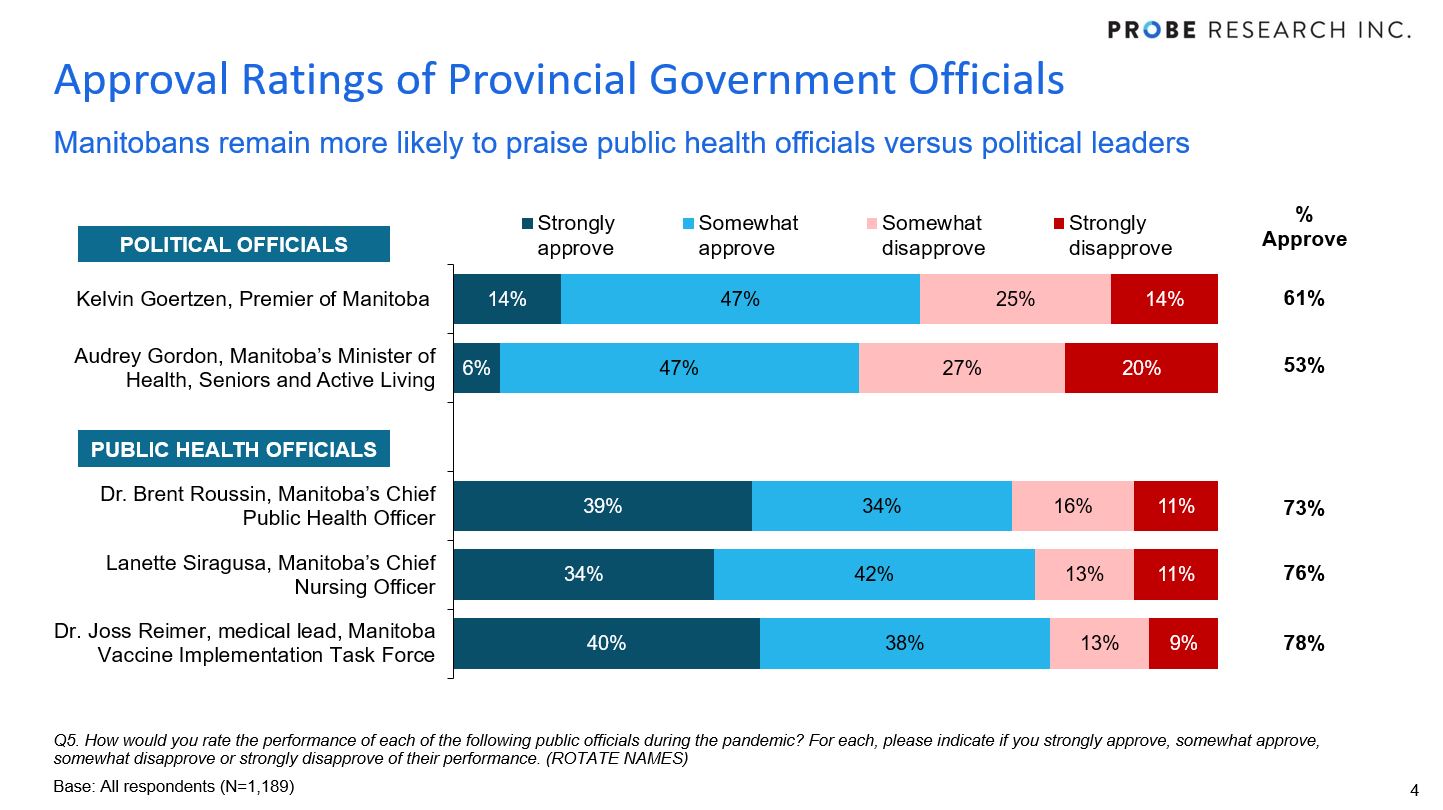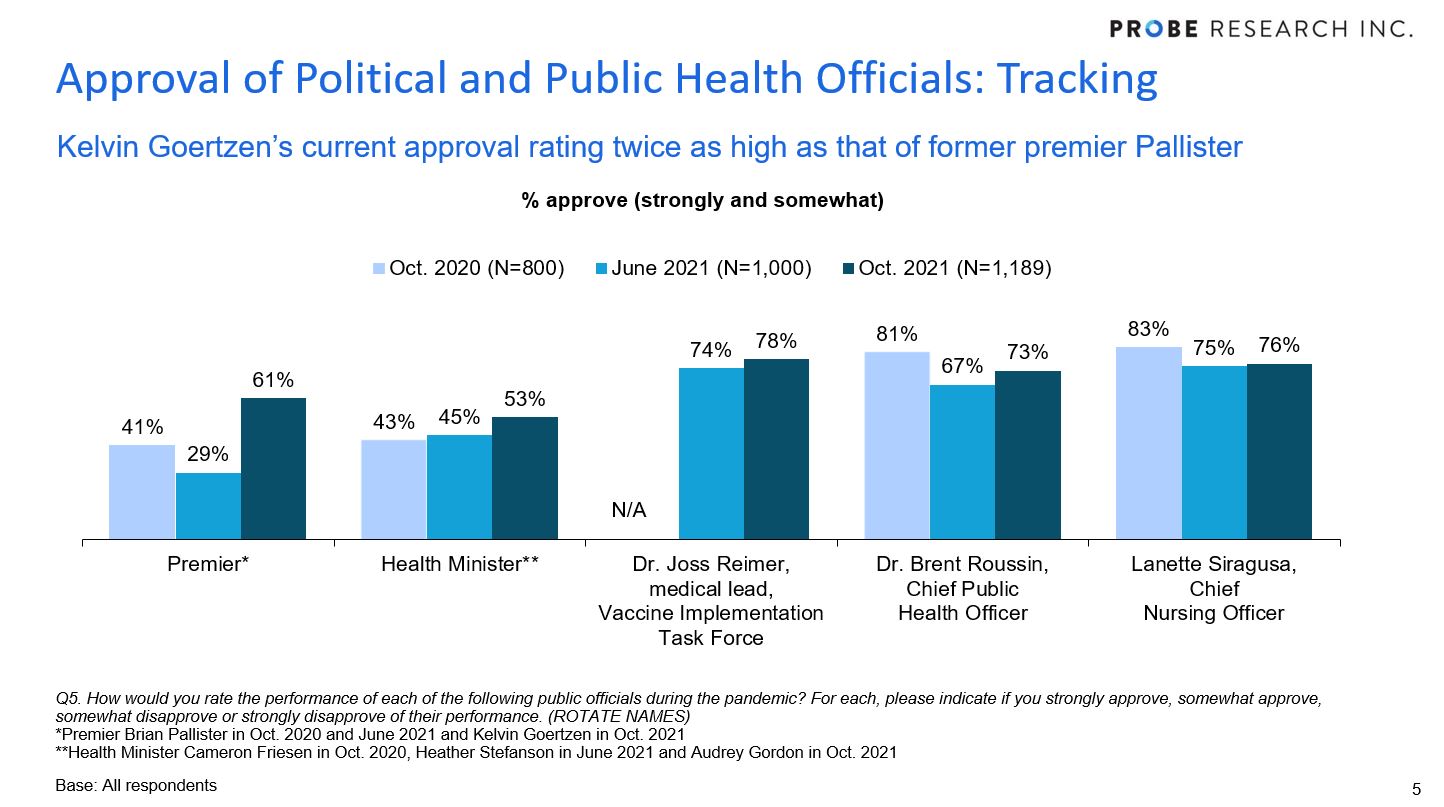 Overall, one-half think the provincial government has done a good job protecting Manitobans' health during the pandemic, though a slightly lower proportion praising its efforts to deal with the economic fallout. Interestingly, views regarding the provincial government's economic performance have not changed significantly during the past year.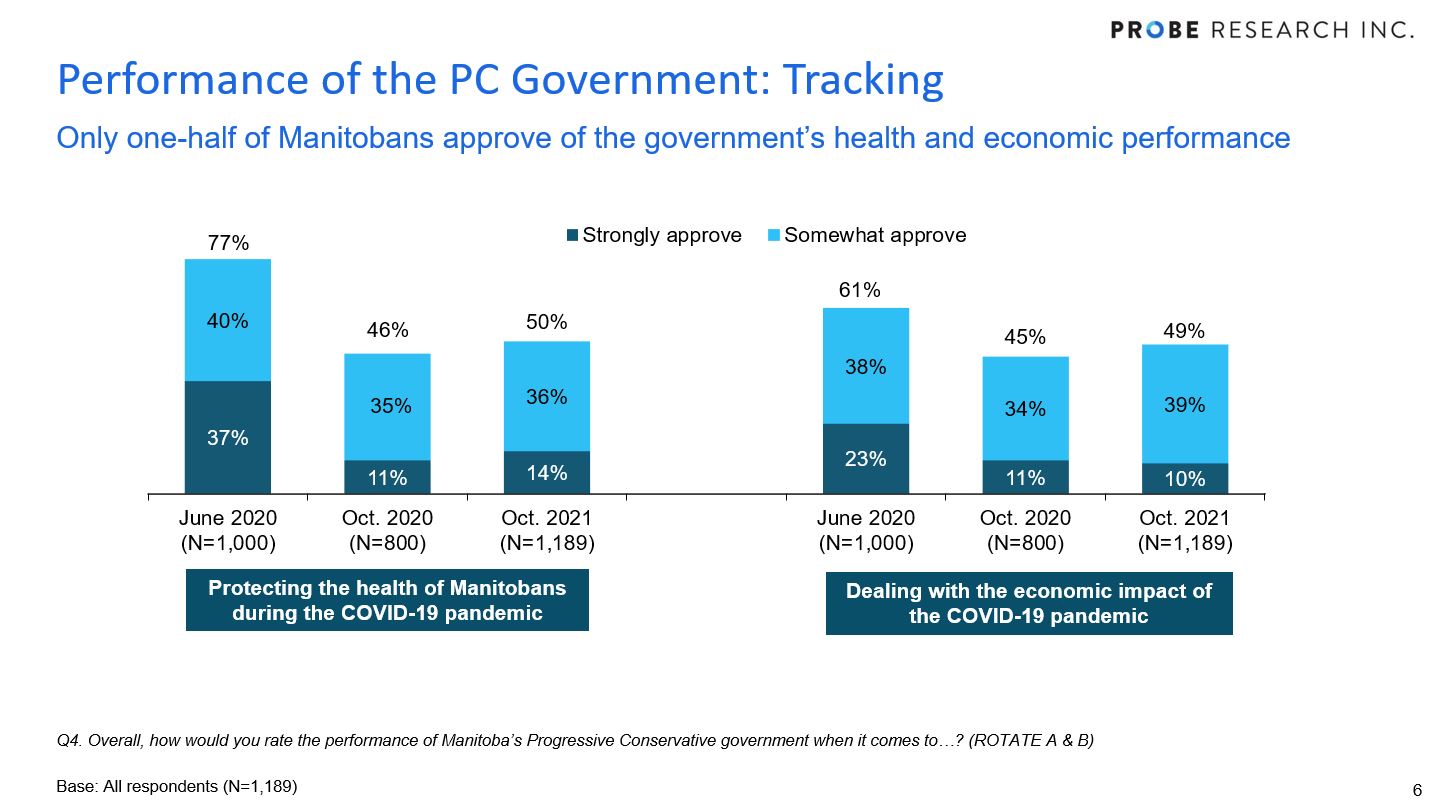 While Manitobans do not offer overwhelming praise for their provincial government, three-quarters do think it has done a better job than neighbouring governments in Saskatchewan and Alberta. As these two provinces struggle with the Delta variant and the fourth wave, more than eight in ten Manitobans support the idea of accepting patients from intensive care units in Alberta and Saskatchewan into our hospitals.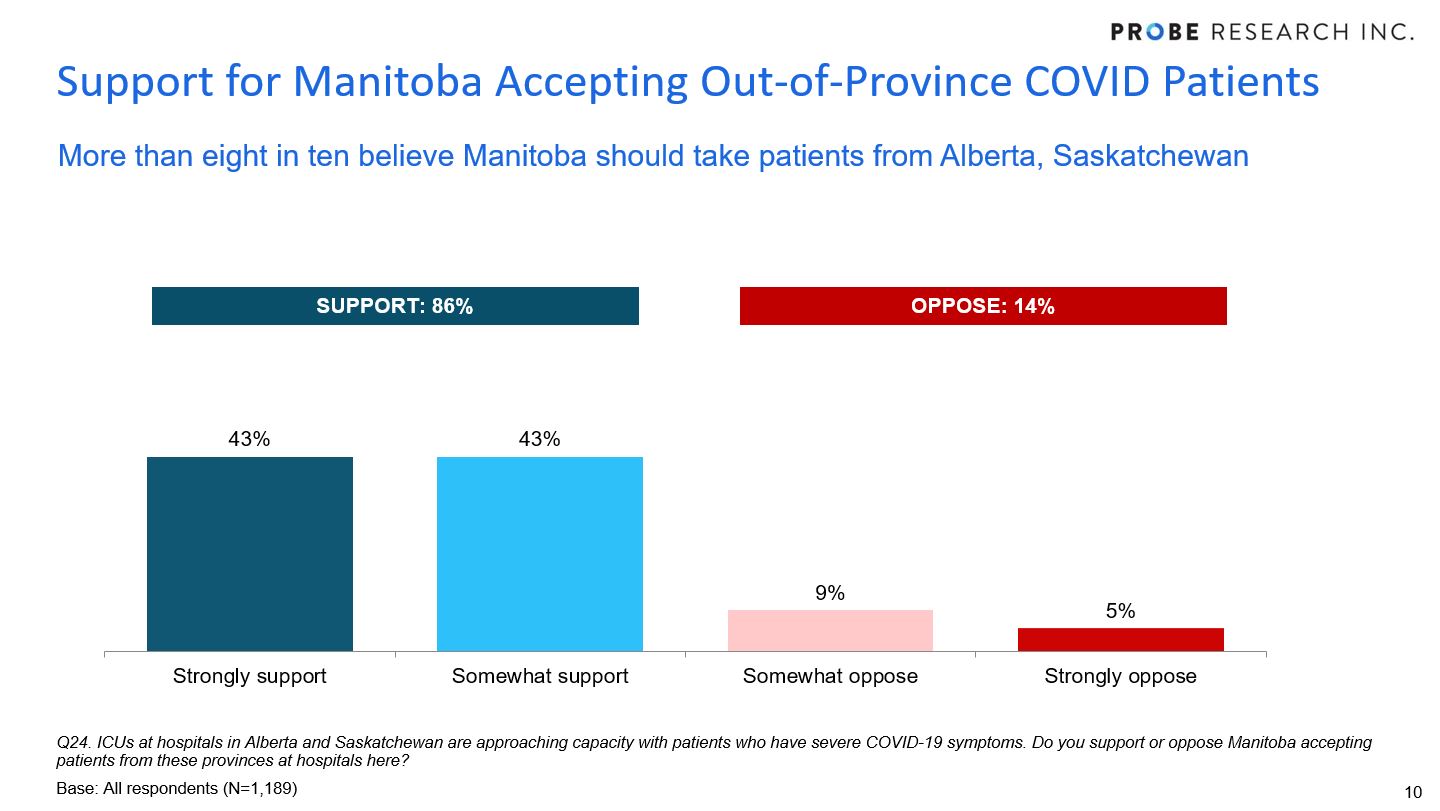 Disclosure Statement
Probe Research is a member of the Canadian Research Insights Council (CRIC) and confirms that this research fully complies with all CRIC Standards including the CRIC Public Opinion Research Standards and Disclosure Requirements. Learn more at: https://www.canadianresearchinsightscouncil.ca/standards/por/
Methodology
Between October 19 and 26, 2021, Probe Research surveyed a representative sampling of 1,189 adults residing in Manitoba, including an oversample of N=174 residents of south-central and southeastern Manitoba. This included members of Probe Research's online proprietary panel, as well as members of a national online research panel. Because an online survey is a sample of convenience, no margin of error can be ascribed. For the purposes of comparison, a non-probabilistic sample of N=1,189 would have a margin of error of ± 2.8 percentage points, 19 times out of 20.​ Minor statistical weighting has been applied to this sample to ensure that age and gender characteristics properly reflect known attributes of the province's population. The questionnaire was designed independently by Probe Research.