Optimism among Manitoba companies in the province's economic outlook has decreased substantially in the past two years, with only six-in-ten expressing a positive view of things to come compared to seven-in-ten who felt this way in 2017.
When it comes to their own company, the proportion of business leaders who expect their corporate financial situation to improve has also decreased since 2017, with slightly more than one-third expecting their fortunes to improve and the plurality expecting things to remains the same.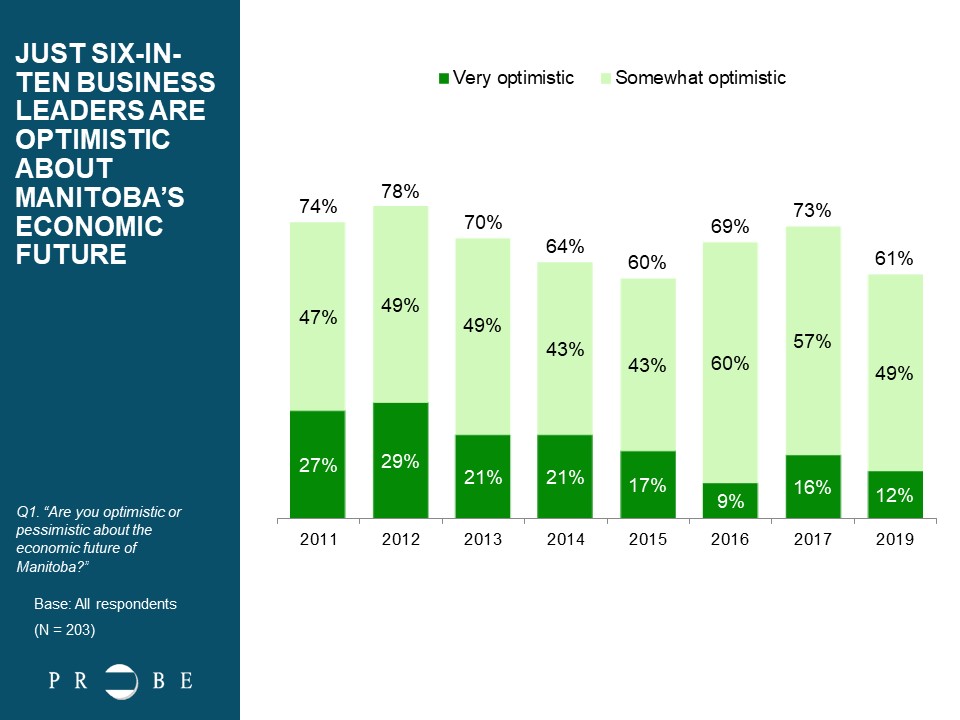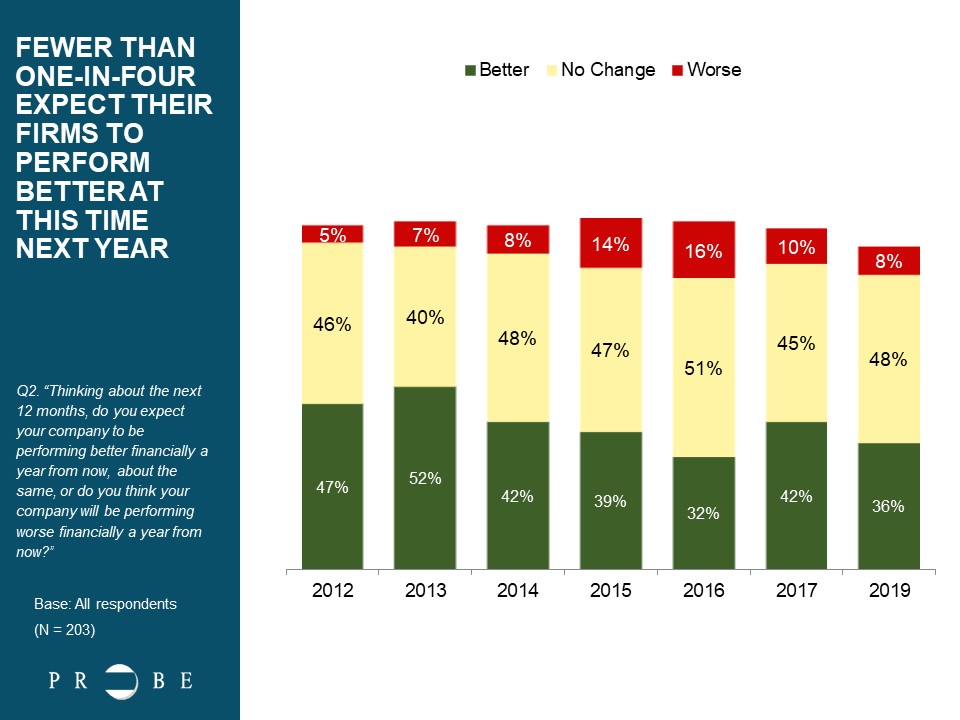 Although business leaders are not overly optimistic about the overall economy, the silver lining is that the vast majority do not intend to make any changes to their workforce complement in the coming months. Only one-in-ten (down from nearly two-in-ten in 2017) expect to lay people off or reduce employees' working hours. At the same time, the proportion of employers who expect to hire more staff has decreased slightly since 2017. One-half continue to have difficulty finding qualified employees.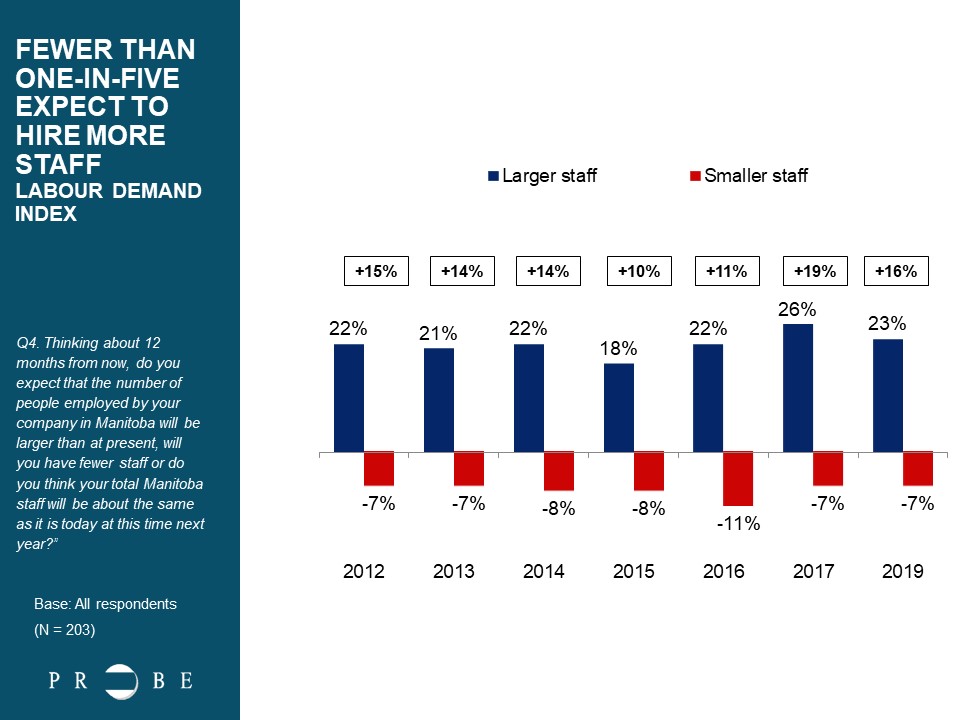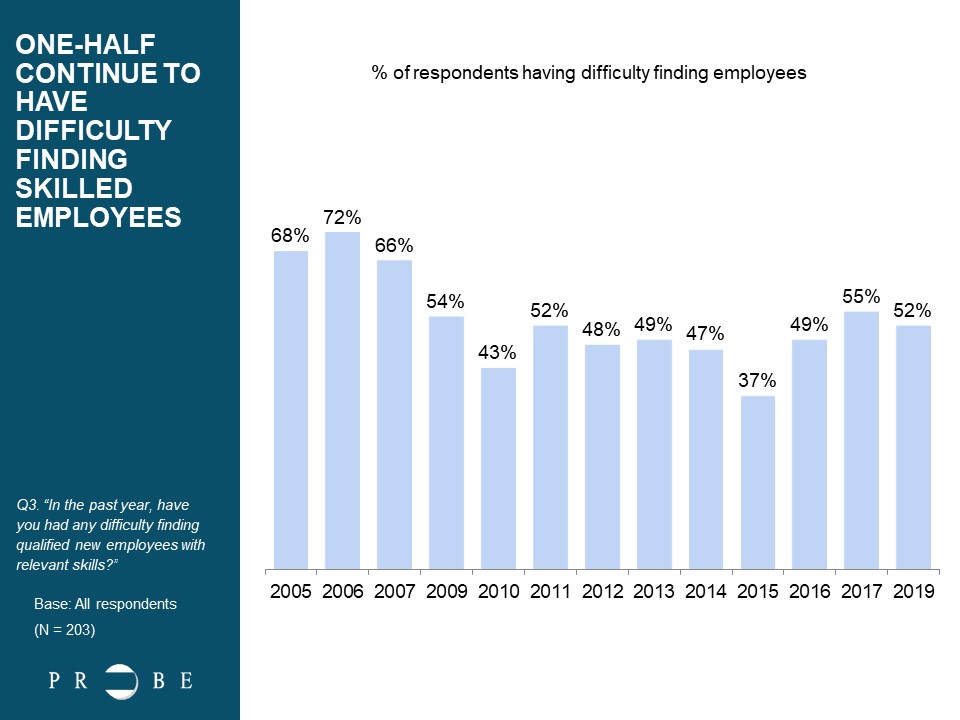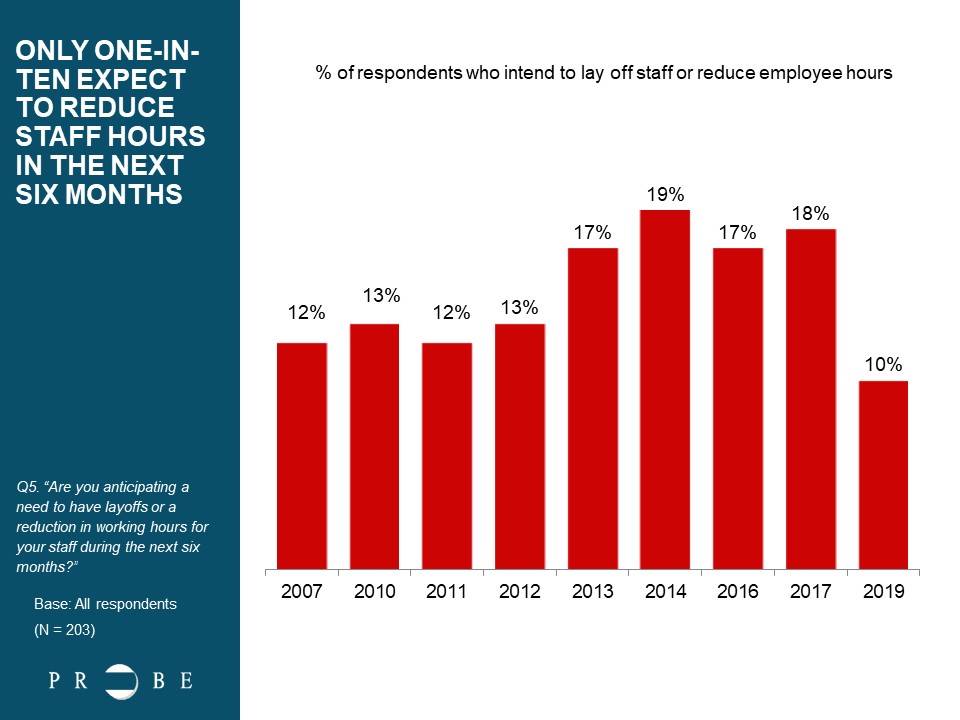 Manitoba businesses continue to express the highest degree of confidence in the provincial Progressive Conservative government's policies, with nearly four-in-ten now saying it is doing an excellent or good job of creating a good business climate. Fewer than one-in-ten now say the same about the federal Liberal government. One-quarter of Manitoba businesses praise their municipality's efforts to foster a positive economic environment, with those located outside Winnipeg more than twice as likely to praise their local government's efforts in this regard compared to those located in the provincial capital.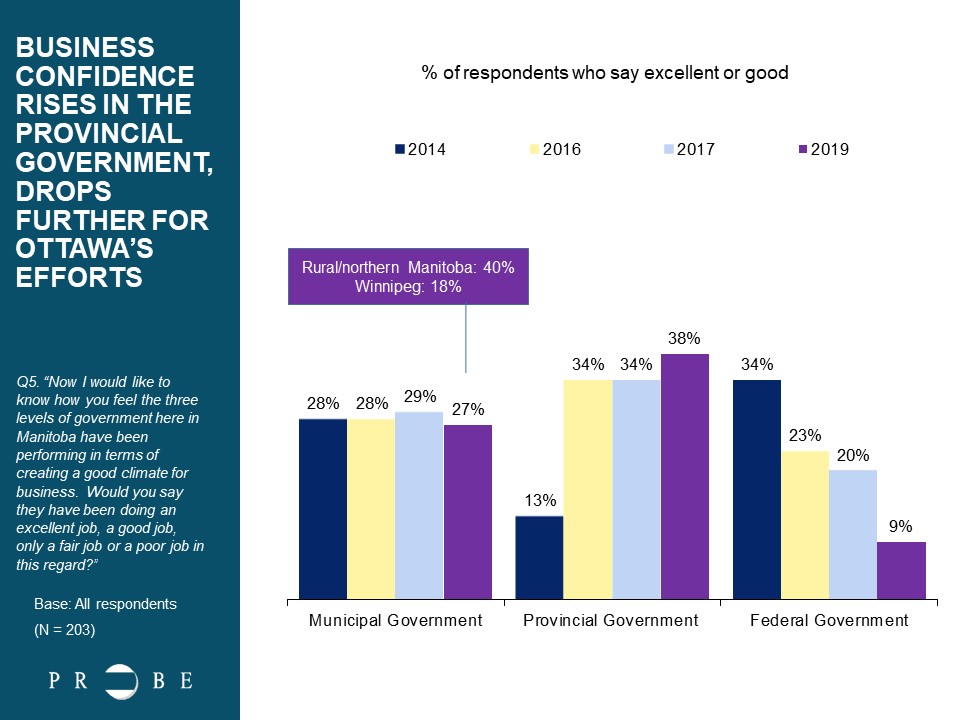 About the Manitoba Business Leaders Index
The Manitoba Business Leaders Index is an annual scientific survey of senior business officials from across the province. The survey sample includes a stratified sampling of CEOs, presidents, business owners and designated senior corporate officers from 203 small, mid-sized and large commercial "establishments" as defined by Statistics Canada and the Manitoba Bureau of Statistics. This business sampling includes publicly traded and private companies from all major sectors of Manitoba industry.
Business listings have been developed based upon the most authoritative and up-to-date sampling sources available including various telephone directories.
Survey Instrument
The survey instrument was designed by Probe Research.
Methodology
Between March 11 and 29, 2019, Probe Research conducted a survey of 203 business owners and managers located throughout Manitoba. Respondents were contacted via telephone and had the option of completing the survey over the telephone with a live interviewer, or completing the survey online.
The survey sample was stratified to ensure representation from small enterprises (1-9 employees), medium-sized companies (10-49 employees) and large businesses (50+ employees). Quotas were also set based on the location of respondents, as well as business sector (services, manufacturing, resources). The sample does not include government departments/agencies, representatives of other public sector entities, or not-for-profit organizations.
With a sample of 203 one can say with 95 percent certainty that the results are within ± 6.9 percentage points of what they would have been if all business owners/managers in Manitoba had been interviewed. The margin of error is higher within each of the survey's population sub-groups.
All data analysis was performed using SPSS statistical analysis software.
For more information:
Scott MacKay, President
(204) 926-6565