A new Probe Research survey finds that if Winnipeggers were casting their ballots for mayor today, they would be strongly inclined to hand their former mayor, Glen Murray, the chains of office for a second time.
Murray - who served as mayor from 1998 to 2004 - is the choice of 44% of decided voters. With strong name recognition and a high base of potential support across a range of demographic groups, Murray enjoys a very strong lead over the current field of contenders.
Further back in second and third, respectively, are current city councillor Scott Gillingham (16%) and former Winnipeg Centre MP and 2014 mayoral candidate Robert-Falcon Ouellette (13%). About half of Winnipeg adults would consider voting for either of these possible contenders, with Gillingham drawing support from older and more conservative voters and Ouellette more likely to be preferred by those who vote NDP or Liberal provincially.
Other candidates with less than one in ten decided voters include 2018 mayoral candidate Jenny Motkaluk (8%), social enterprise advocate Shaun Loney (6%), former Manitoba Liberal leader Rana Bokhari (4%) and businessperson Rick Shone (3%). Eight per cent would vote for one of the other five candidates on the ballot (Don Woodstock, Jessica Peebles, Desmond Thomas, Chris Clacio and Idris Ademuyiwa Adelakun). Overall, one-quarter of Winnipeggers do not have a preference for any of the 12 candidates running for mayor.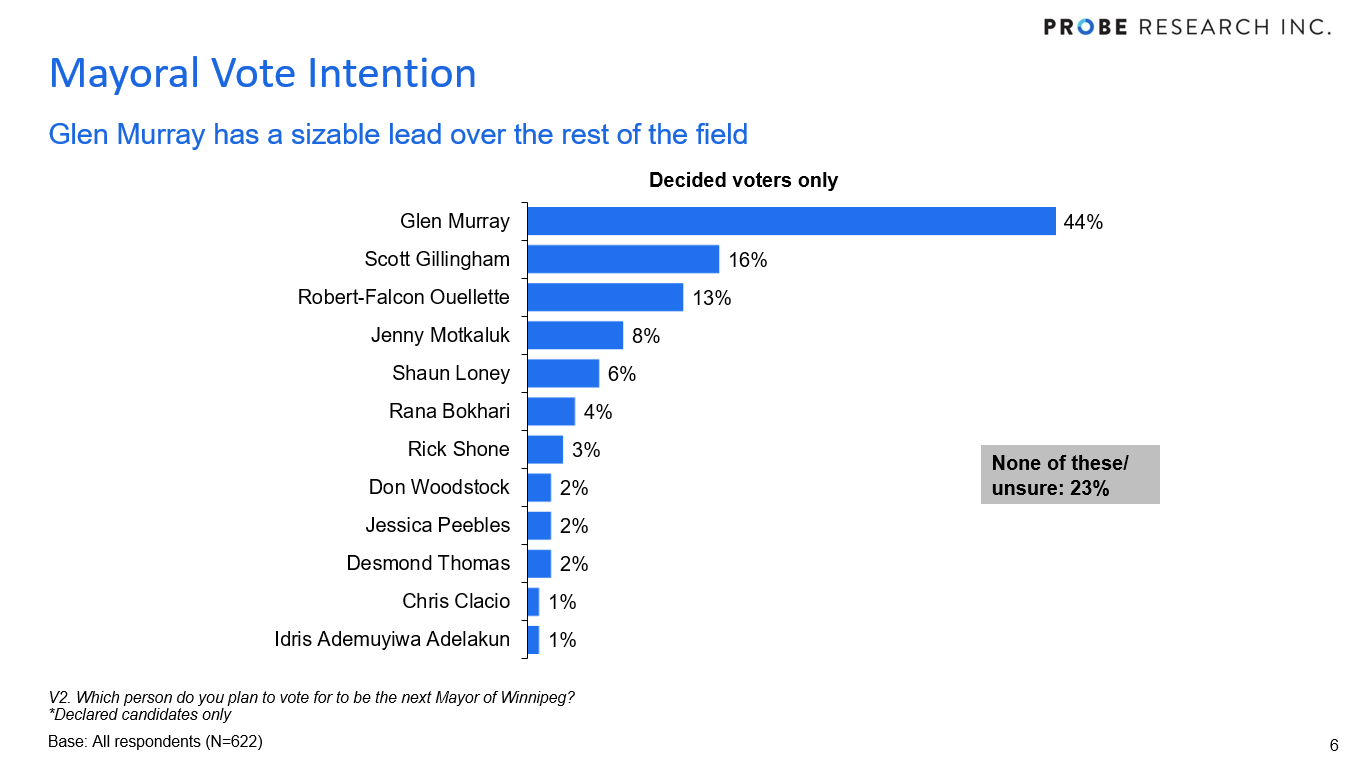 Candidate Momentum
With three months left to go until Winnipeggers cast a ballot for mayor, the candidates are doing their best to get themselves known. Winnipeggers are most likely to say their opinion of Glen Murray has improved during the past month (24% improved, 13% worsened - +11), their views of Gillingham (+7) and Shaun Loney (+6) have also improved. Motkaluk, meanwhile, stands out for having negative momentum (-11), with one in five saying they have a worse opinion of her today compared to one month ago (21% worsened, 10% improved).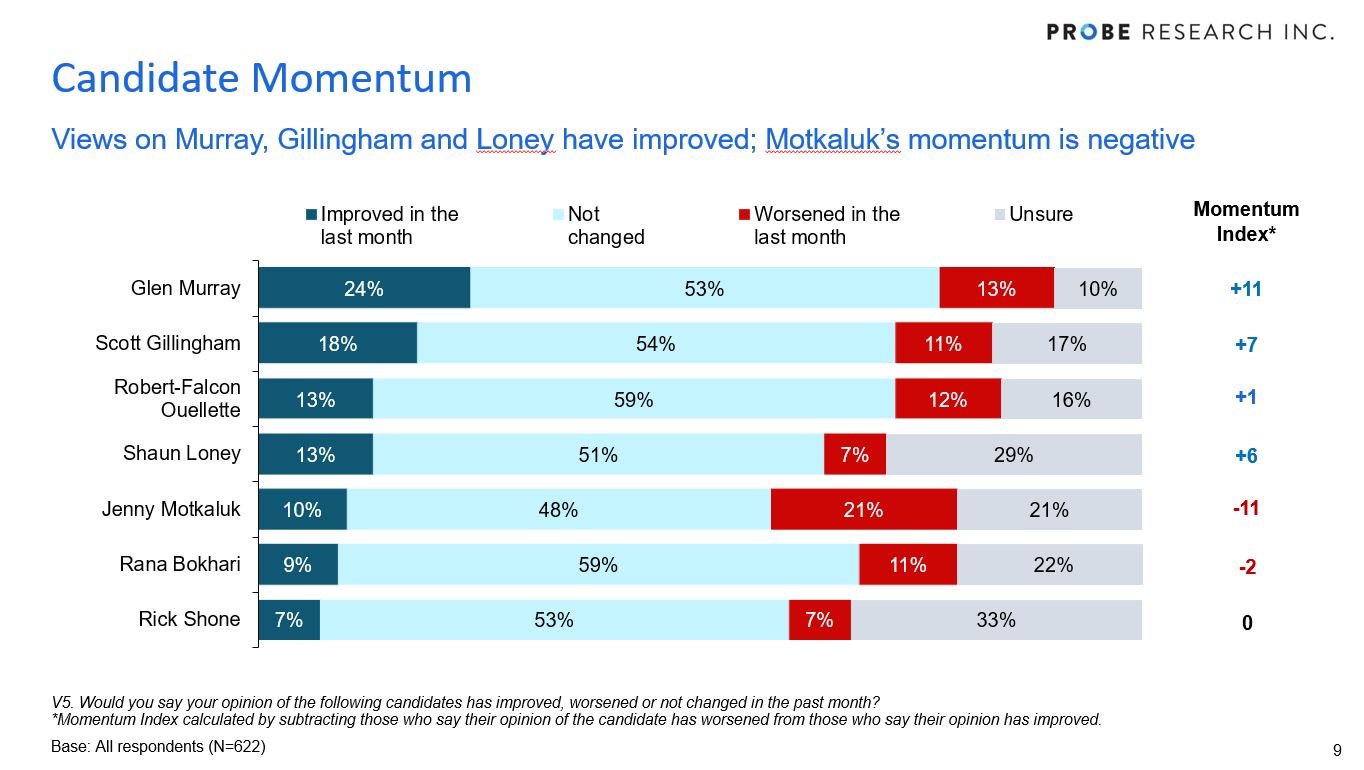 Disclosure Statement
Probe Research is a member of the Canadian Research Insights Council (CRIC) and confirms that this research fully complies with all CRIC Standards including the CRIC Public Opinion Research Standards and Disclosure Requirements. Learn more at: https://www.canadianresearchinsightscouncil.ca/standards/por/
Methodology
Probe Research surveyed a representative sample of 622 Winnipeg adults between July 14-25, 2022 to gauge their early views on the city's mayoral candidates.
The survey questions were designed by Probe Research and the sample of respondents was provided by Probe Research's proprietary panel and supplemented with those from a large-scale national panel provider.
As an online panel survey is a sample of convenience, no margin of error can be ascribed. However, a random and representative non-convenience sample of 622 adults would have a margin of error of ± 4.0 percentage points, 19 times out of 20. The margin of error is higher within each of the survey's population subgroups.
Minor statistical weighting by age and gender has been applied to this sample to ensure that it corresponds with the city as a whole.