After nearly three months of being physically distant from one another, Manitobans are gathering in larger groups as the worst of the COVID-19 pandemic passes.
Starting this week, we can gather with friends in restaurants and bars, enjoy that long-overdue spa day and start working off the "Pandemic 15" some of us have built up during the past few months while away from the gym.
As life returns to something approaching "normal," it's fair to wonder whether the habits and preferences that began during the lockdown will continue. Are the things we did to keep ourselves busy and sane while at home part of a "new normal"? Or, with very few active cases left in Manitoba, will our lives essentially revert to how they were prior to mid-March?
Our extensive survey on COVID-19 conducted in late April found that nearly two-thirds of Manitobans (65%) were taking the opportunity to get things done that they would not normally have the time to do. When asked what they started doing during the pandemic, one-half of Manitobans said they've deep cleaned or decluttered their homes. Four-in-ten reported they had been reading more books, baking or taken up a hobby, while three-in-ten completed home repairs or renovations.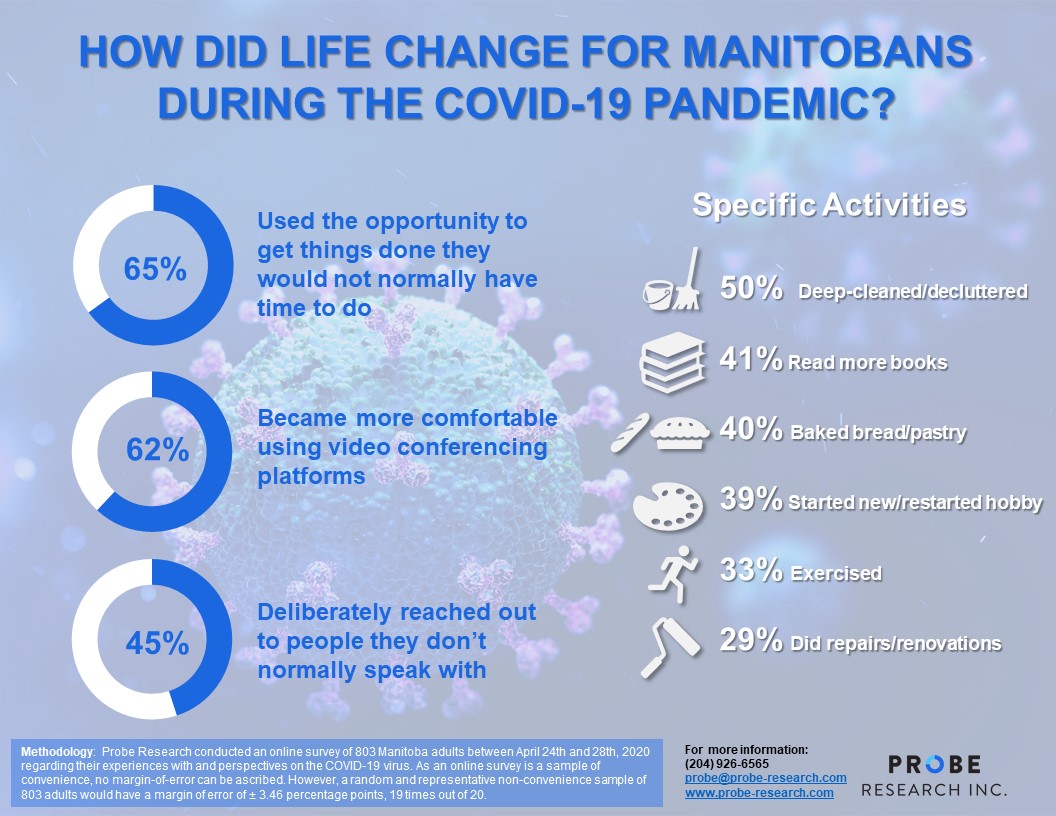 These changes may have interesting implications. Some may be eager to escape the confines of their households and start spending immediately on meals and other entertainment options (once these come available). Others, meanwhile, may adjust to a reality that includes more work and leisure time at home by spending more money on big-ticket home purchases and renovations – or even buying new homes altogether.
Personal connection is another important aspect of the pandemic, as the phrase "social distancing" entered the lexicon and people found new and creative ways to remain connected while physically apart.
Manitobans enthusiastically began using communications platforms such as FaceTime and Zoom to keep in touch, with more than six-in-ten now saying they are a lot more comfortable using these video conferencing apps. Although younger adults are more confident using this technology than older Manitobans, the majority of those over the age of 55 also say they feel comfortable using video to keep in touch with others. With "zooming" now becoming a verb as ubiquitous as "googling", we expect these platforms to remain an integral part of our lives for months and years - redefining how we meet colleagues and keep in touch with friends and family.
We also found that nearly one-half of Manitobans (45%) made a conscious effort to reach out to people they do not normally speak with on a regular basis. Will this continue? As life returns to normal and people fall back into their usual routines, the social connections re-forged by the pandemic may weaken to some degree. However, Manitobans may also see the need to remain close to one another, checking in with friends and family members through Zoom or over the phone as normalcy slowly returns.
The majority of us are certain that life will be very different from now on. These trends suggest that the things we did and experienced during the pandemic will continue to shape our behaviour for months and years to come.