From time to time, Probe Research surveys Manitobans about COVID-19, gauging their attitudes and perspectives on this global pandemic. Our most recent survey of N=1,189 Manitobans conducted between October 19 and 26, 2021 provides significant insight into how the views and behaviours of those living in southern Manitoba differ from those in other parts of the province. For instance:
Vaccination/Testing Requirements for Public Employees. Manitobans overwhelmingly support rules requiring those who work directly with the public to be vaccinated or frequently tested for COVID 19 as a job requirement. As well, three quarters of Manitobans support the provincial government's decision not to pay wages or benefits to employees who refuse to be vaccinated or frequently tested for COVID-19. Support for this varies significantly across the province: nearly nine in ten Winnipeggers back this measure, compared to just six in ten among southern Manitobans.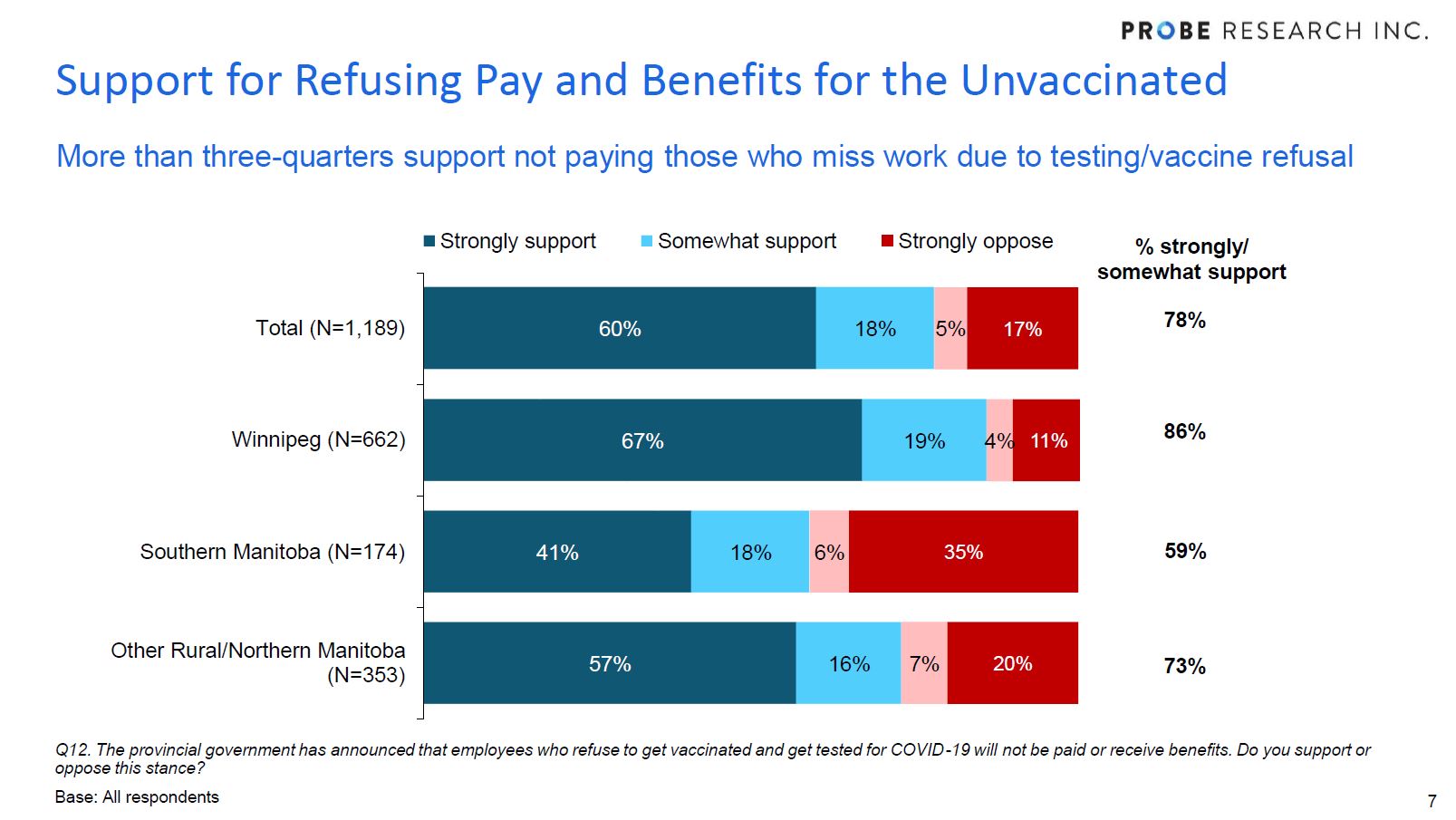 Views on Regional Restrictions. More than eight in ten Manitobans think areas currently experiencing higher numbers of COVID-19 cases and that have lower vaccine rates should face stronger public health restrictions. There is significantly more support for this idea in Winnipeg but much lower support in southern Manitoba where a relatively high proportion of eligible individuals are not vaccinated.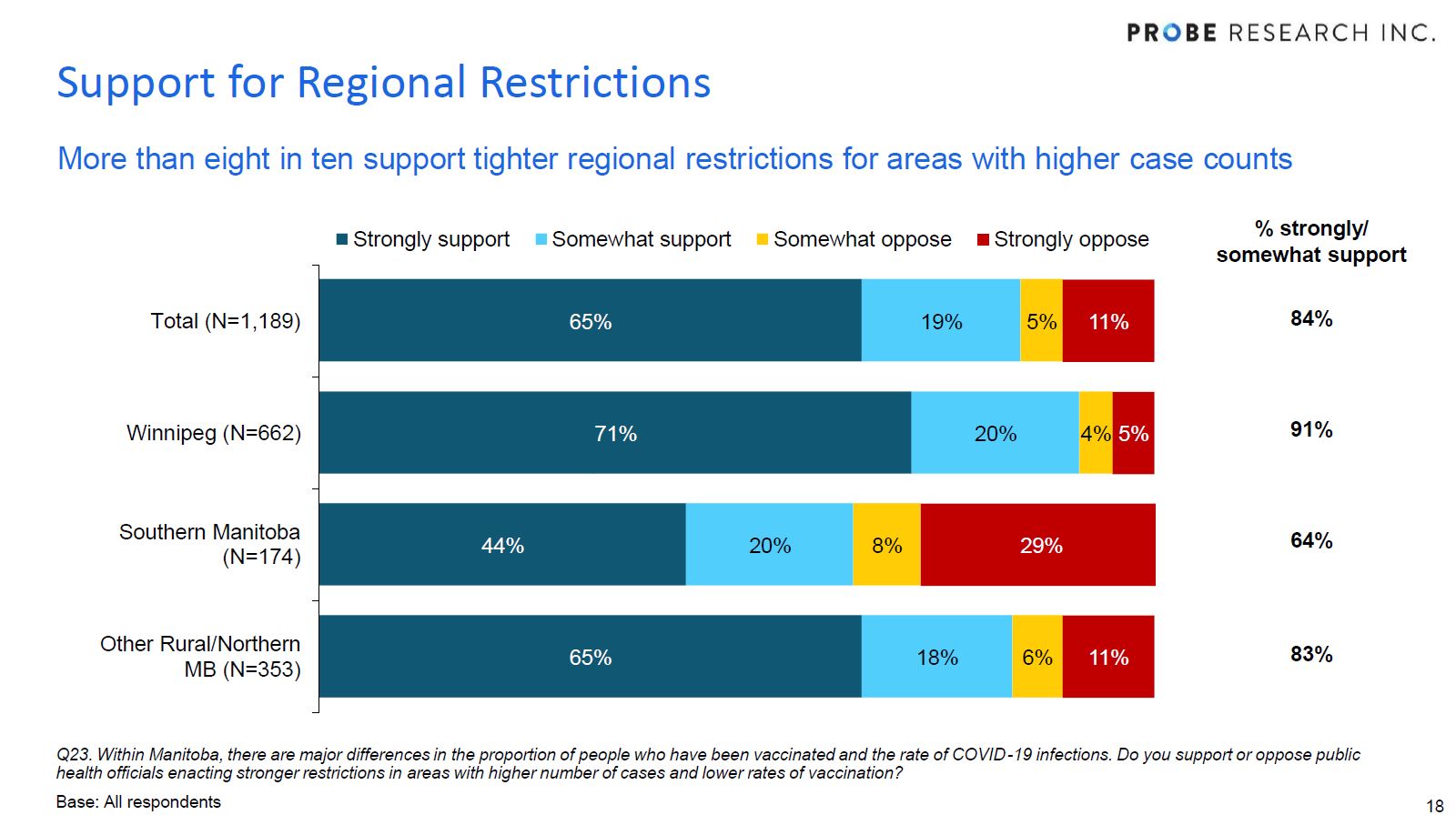 Proof of Vaccination. Manitobans continue to be supportive of requiring proof of vaccination for a number of activities, including air travel or attending large indoor events such as a Winnipeg Jets game. During the past three months, support for requiring proof of vaccination in indoor public places, in the workplace and for youth sports has also increased significantly. Again, there are significant differences on this view depending on where you live in Manitoba, as those living in southern Manitoba are much less likely to believe this requirement to be vaccinated to enter certain premises should be absolutely required.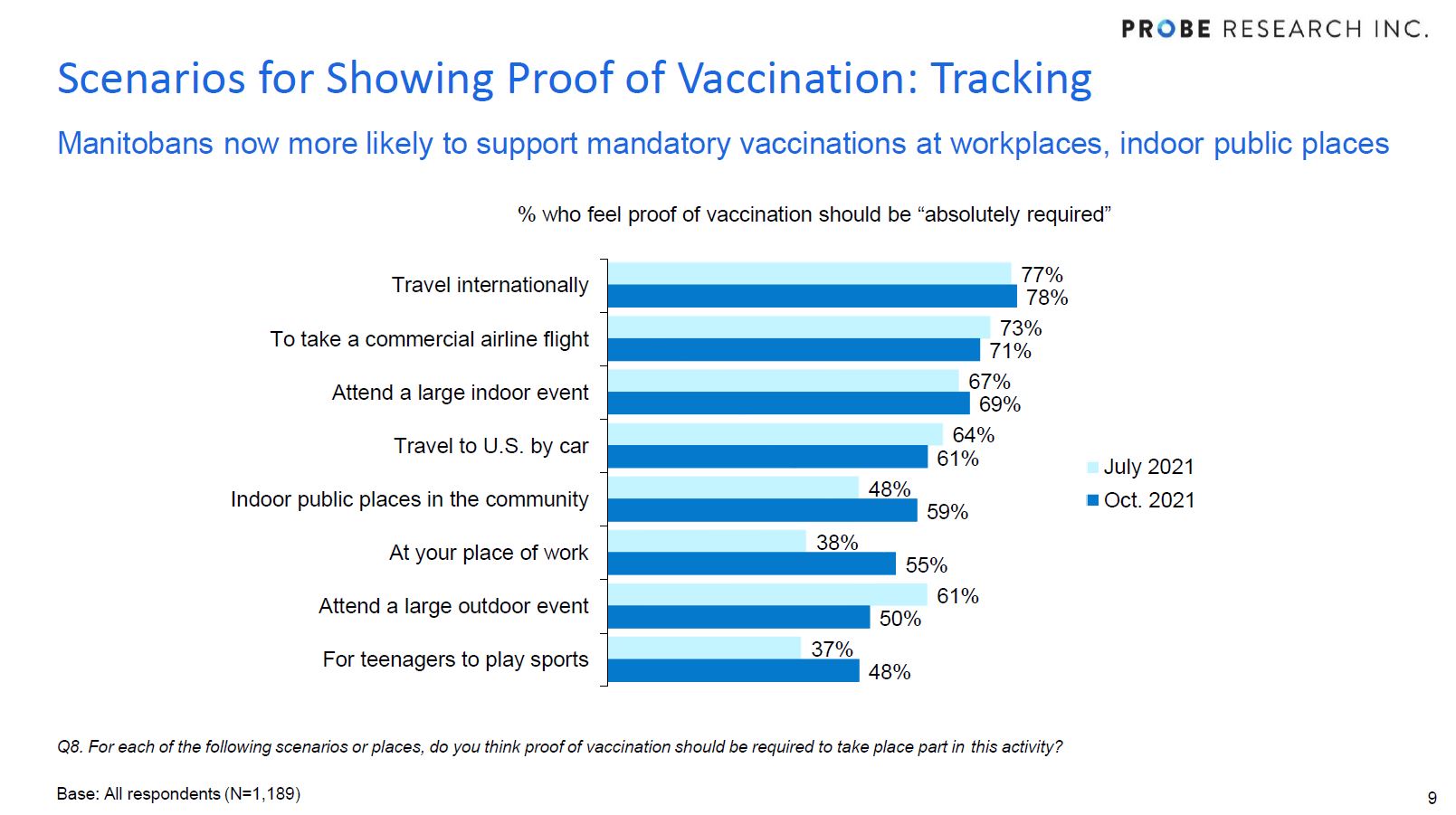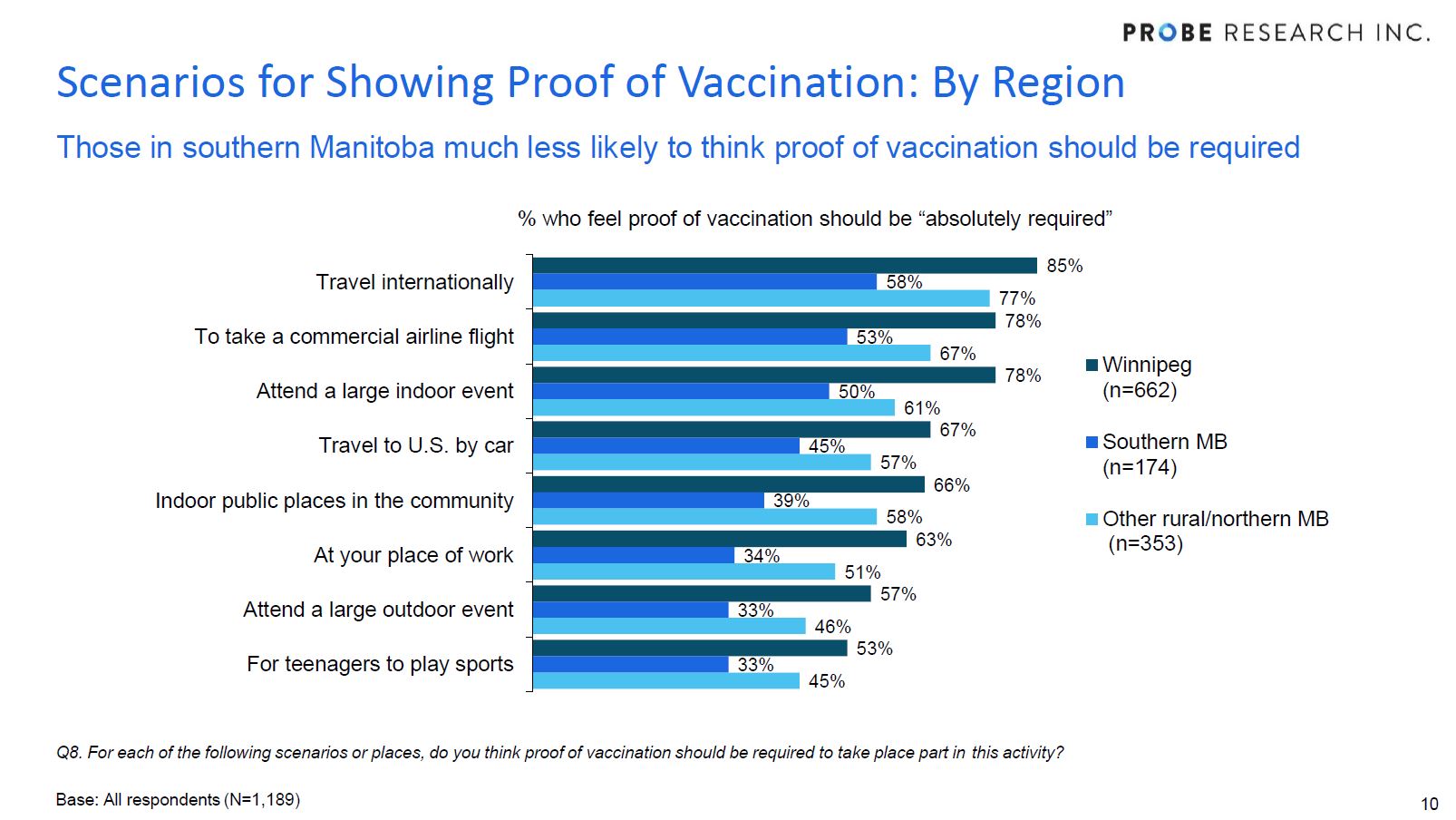 Testing. About one in ten Manitobans - including one in five residents of southern Manitoba - who report they experienced COVID-19 symptoms at some point chose not to get tested. The prevalence of this is higher among younger adults, those who identify as Black, Indigenous or a person of colour (BIPOC) and those who have not yet been vaccinated. When asked what they did while experiencing symptoms, one third say these symptoms did not stop them from living their regular, everyday lives. Only one quarter say they completely self isolated.
Disclosure Statement
Probe Research is a member of the Canadian Research Insights Council (CRIC) and confirms that this research fully complies with all CRIC Standards including the CRIC Public Opinion Research Standards and Disclosure Requirements. Learn more at: https://www.canadianresearchinsightscouncil.ca/standards/por/
Methodology
Between October 19 and 26, 2021, Probe Research surveyed a representative sampling of 1,189 adults residing in Manitoba, including an oversample of N=174 residents of south-central and southeastern Manitoba. This included members of Probe Research's online proprietary panel, as well as members of a national online research panel. Because an online survey is a sample of convenience, no margin of error can be ascribed. For the purposes of comparison, a non-probabilistic sample of N=1,189 would have a margin of error of ± 2.8 percentage points, 19 times out of 20.​ Minor statistical weighting has been applied to this sample to ensure that age and gender characteristics properly reflect known attributes of the province's population. The questionnaire was designed independently by Probe Research.