Manitoba's New Democratic Party (NDP) looks poised to re-take government after seven years in opposition. The party has boosted its province-wide lead over the incumbent Progressive Conservatives during the first weeks of the 2023 provincial election campaign.
Currently, nearly one-half of decided and leaning voters would cast a ballot for an NDP candidate in their constituency (49%, up from 41% in June). After being tied with the NDP in June, PC support has slipped to 38 per cent province-wide (-3%). Nine per cent of Manitobans would cast ballots for the Manitoba Liberals (-1% vs. June), while three per cent prefer the Greens (-2%) and two per cent back other parties not represented in the Legislature. Overall, 11 per cent of Manitobans are undecided (down from 20% in June).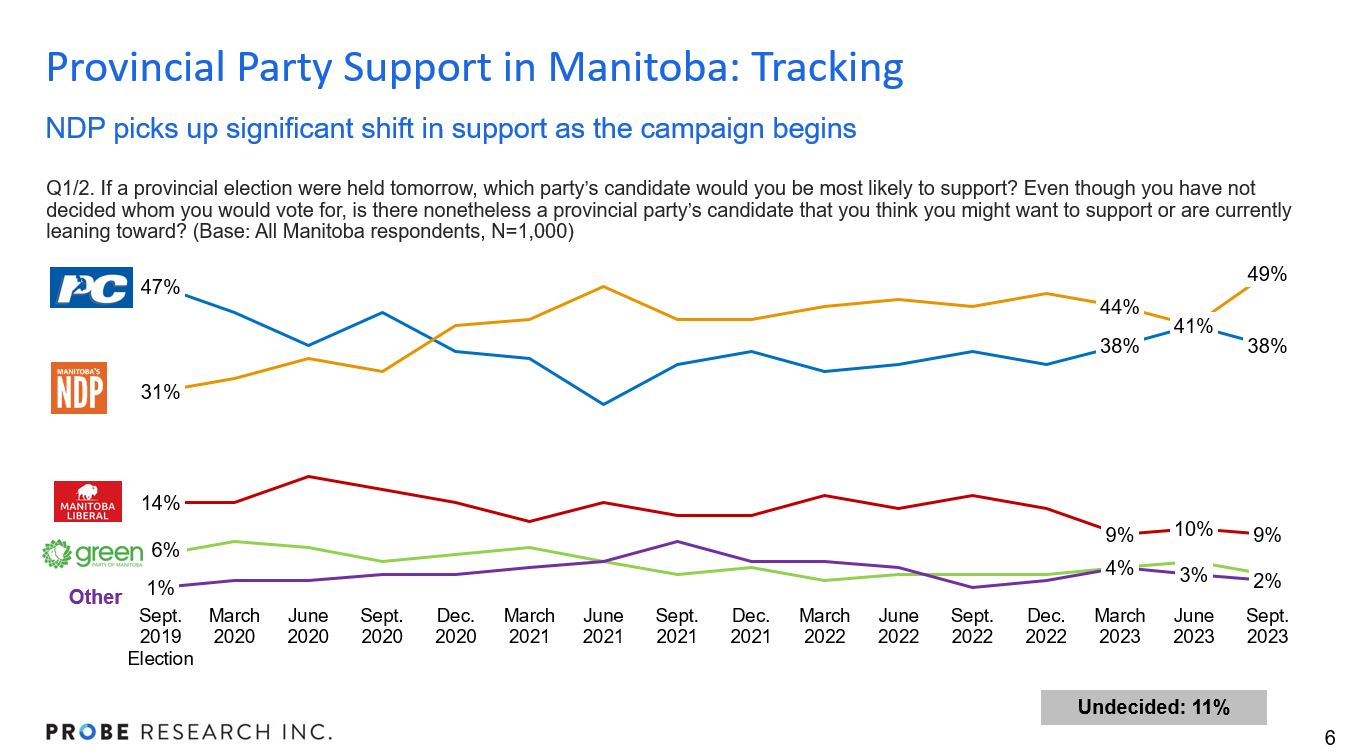 After trending slightly downwards, NDP support in Winnipeg has rebounded significantly during the past three months: 57 per cent of urban voters now plan to vote NDP (+9% vs. June), with fewer than three in ten opting for the PCs (28%, -4%) and one in ten backing the Liberals (11%, -1%). NDP support is high throughout Winnipeg, with the two parties only relatively close in the northwest quadrant of the city. Outside the city, more than one-half still prefer the PCs (53%), but 38 per cent plan to vote for the NDP. Taken together, this boost in NDP support suggests the New Democrats are in a position to pick up a significant number of suburban Winnipeg seats from the PCs, and possibly a few competitive constituencies outside the Perimeter.
The NDP lead is built primarily on a significant degree of support among university-educated voters. The two parties are tied for support among those with college or partial post-secondary education, with the PCs continuing to hold a lead among those with high school or less. Similarly, the NDP has a huge advantage in support among women, with men still more partial to the PCs. The NDP also hold large leads among voters aged 18-34 and 35-54, with the two parties being tied in support among those aged 55+.
The PCs are retaining support from seven in ten Manitobans who cast ballots for that party in the 2019 election. Among those who previously voted for the Brian Pallister-led PCs, 16 percent have now moved to the NDP column. The New Democrats, in contrast, post comparatively impressive retention numbers. They hold on to nearly nine out of ten of their 2019 supporters. NDP support has also been buoyed by former provincial Liberal supporters, as fully one-half of 2019 Liberal voters now plan to vote for the New Democrats.
Regardless of party preference, a significant proportion of Manitobans (51%) approve of the job Wab Kinew is doing as NDP leader. Moreover, more than one-quarter (26%) report their impressions of him have improved leading up to and during the election campaign. PC leader Heather Stefanson, meanwhile, suffers from high disapproval among Manitobans. Though one-third approve of the job she is doing as leader (32%), almost one-half of Manitobans (48%) strongly disapprove of her performance. Further, nearly four in ten indicate their impressions of the incumbent premier have worsened during the past few weeks, with this erosion of esteem being most significant among women, Winnipeg voters, racialized Manitobans and younger adults.
About the Probe Research Omnibus
For more than two decades, Probe Research has undertaken quarterly omnibus surveys of random and representative samples of Manitoba adults. These scientific telephone surveys have provided strategic and proprietary insights to hundreds of public, private and not-for-profit clients on a range of social, cultural and public policy topics. The Probe Research Omnibus Survey is the province's largest and most trusted general population survey.
Disclosure Statement
Probe Research is a member of the Canadian Research Insights Council (CRIC) and confirms that this research fully complies with all CRIC Standards including the CRIC Public Opinion Research Standards and Disclosure Requirements. Learn more at: https://www.canadianresearchinsightscouncil.ca/standards/por/
Methodology
Probe Research surveyed a random and representative sampling of 1,000 adults residing in Manitoba between September 7 and 18, 2023.
With a sample of 1,000, one can say with 95 per cent certainty that the results are within ± 3.1 percentage points of what they would have been if the entire adult population of Manitoba had been surveyed. The margin of error is higher within each of the survey's population sub-groups.​
The sample consists of 535 Manitobans randomly recruited via live-agent operator and 465 Manitobans randomly recruited via Interactive Voice Response (IVR). All respondents completed the survey on an online platform.
Modified random digit dialing, including both landline and wireless numbers, ensured all Manitoba adults had an equal opportunity to participate in this Probe Research survey.
Minor statistical weighting has been applied to this sample to ensure that age and gender characteristics properly reflect known attributes of the province's population. All data analysis was performed using SPSS statistical analysis software.​